Fiberglass Hard Top For Contender Boat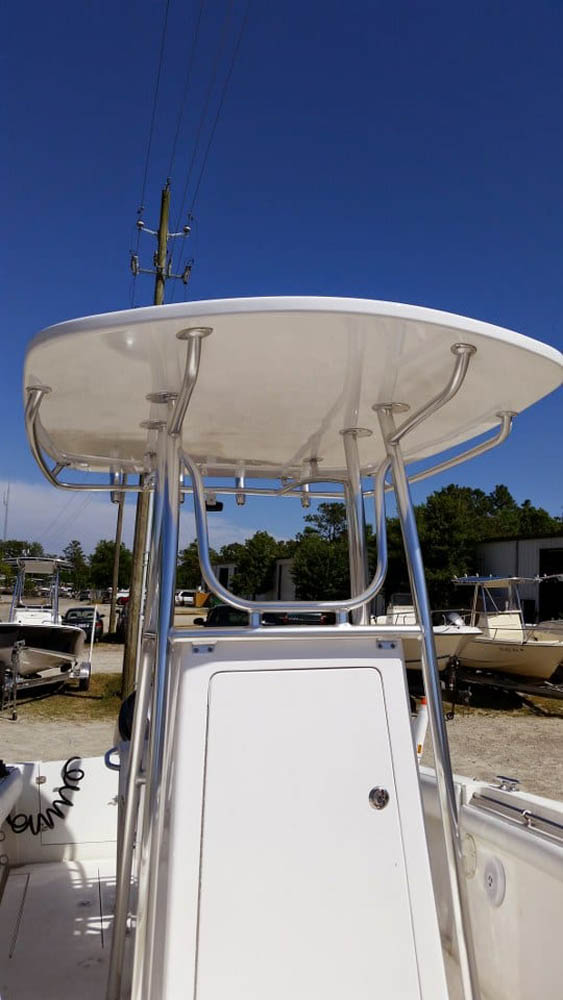 Fiberglass Hard Tops are a great addition to a contender boat.  They are great for shade and rod storage.
Fiberglass Hard Top for Contender Boat
Customers prefer hard tops over canvas t tops for looks and function.  This hard top was built several years ago for a customer of ours.  They brought us the fiberglass hard top and we built the anodized aluminum legs that secures it to the boat.  We used 1.5″ aluminum for this contender hard top because the fiberglass top was very light and was not dense.  This hard top looks great with the curves of the aluminum hard top frame.  Our slogan is "style meets utility".  We certainly do our best to design every hard top with style and utility.
We added a LED spreader light that will allow the deck to light up at night.  The aluminum grab rails that wrap all the way around the hard top are great for holding on to while the boat is underway.  The grab rails also help people get on and off the boat while at the dock.
Our standard T Tops come with 4 rod holders for storage.  This contender hard top received 4 deck mounts and 6 console mounts.  Likewise, console mounts double as route tubes.  Route tubes hide the spreader light wire.  Custom T Tops and Hard Tops can be designed with radio boxes.  Radio Boxes certainly offer great storage for electronics, wallets, keys, and sweat shirts.  A Life Jacket Storage keep life jackets out of the way and frees up another compartment on the boat.
We offer standard fiberglass hard tops.  You don't have to bring us a hard top of your own.  Above all, we have several sizes and variations to choose from.
More Hard Top Information
Click here for more information about our fiberglass hard tops.  You can also call 910-632-4427 to speak with one of our fiberglass hard top for contender experts.  Here is a video that shows all of our boat tower configurations.