Bumper To Bumper Truck Racks – Custom Racks For Truck Fleet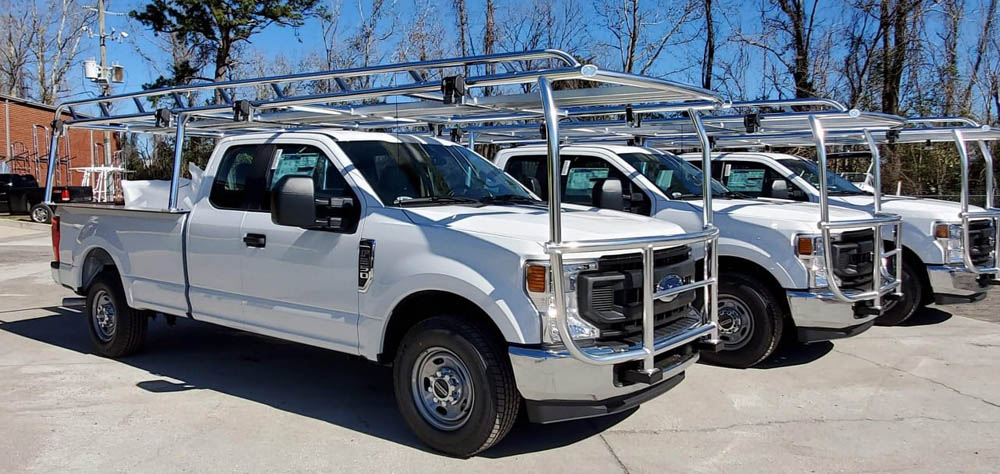 We just completed these bumper to bumper truck racks.  The custom racks for truck fleet are heading to Illinois, where the customer is located.  This is the forth round of trucks we've unfitted for them.  We have a relationship with our local ford dealership, so that's where they buy the trucks.  It is great for logistics for them to buy the trucks near us, so we can have the racks installed before delivery.
They fly down their workers to our Wilmington airport and they drive the trucks home.  It works out really well for everyone and it saves a lot of time.  These are what we call full-length truck racks and have a lot of custom features.  The plate extensions over the bedrails allow for a campershell to be integrated with the rack.  We install 8 auto-retracting rack straps, so that they can fasten their materials more efficiently.  The front of the racks have some integrated steps, so their workers can climb up and walk down the aluminum gangways.
We keep measurements and drawings for our custom projects like this.  As their fleet grows, we are able to provide more racks and make adjustments upon request.  If you have any questions about our bumper to bumper truck racks, please don't hesitate reaching out.  We can be reached by calling 910-632-4427 or through our contact page.  Here is a YouTube video link that goes into detail about our custom full-length ladder racks.