Ford Super Duty Ladder Rack – Truck Rack And Toolboxes For A F-350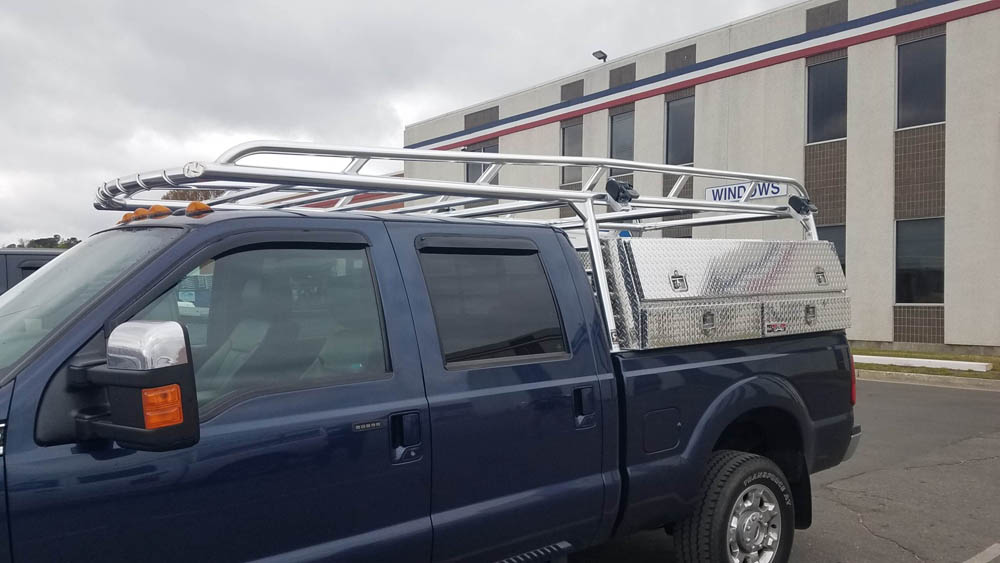 We just installed this Ford Super Duty Ladder Rack.  This setup included a Custom Truck Rack And Toolboxes For A F-350.  Our Ryder Rack WELD includes a removable rear bar, wind deflectors, and installation.  We have customers drive from all over to have their custom ladder racks installed at our Wilmington, NC Factory.
Our aluminum racks are built with 2″ schedule 40 pipe and are very heavy duty.  We rate the racks for the trucks that they're installed to, so the limit is the truck.  With this rating, we offer the strongest aluminum truck rack on the market.  We build hundreds of racks each year and each of them are unique in some sort of way.  Our racks are often custom, because we build each rack to order.
The most popular rack upgrade are the auto-retracting rack straps.  We also get a lot of requests for aluminum tie-downs and additional bars.  The additional bars can either be welded or removable.  We recommend not putting additional bars over the cab, because it can cause wind noise.
If you have questions about our racks, please don't hesitate to call: 910-632-4427.  We also have a YouTube video that is dedicated to our Custom Aluminum Ladder Racks.