Aluminum Ladder Rack for Knapheide Service Body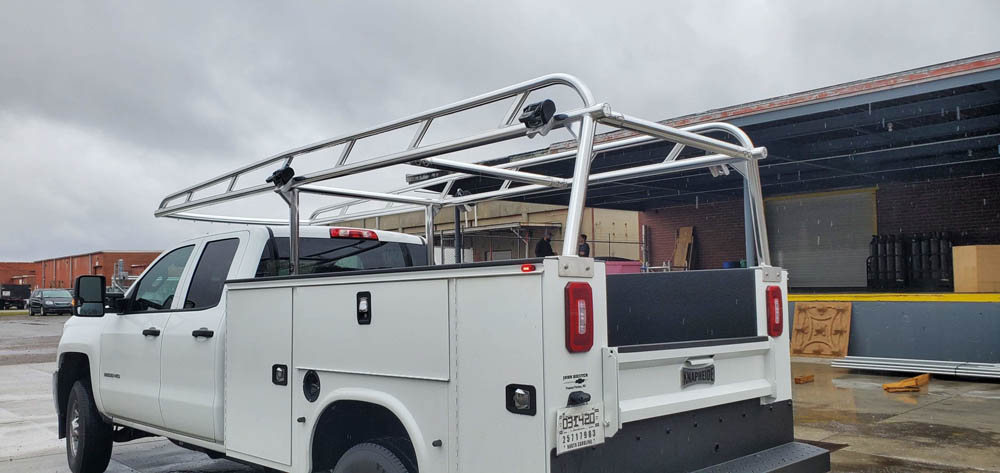 Aluminum Ladder Rack for Knapheide Service Body.  Service Body Ladder Rack for Knapheide.
Aluminum Ladder Rack for Knapheide
Ryder Racks are fabricated with anodized aluminum, because it's the best.  Heavy-Duty aluminum racks are the best for any truck, because they're strong.  They certainly will not rust, chip or corrode like steel racks.  Steel racks leave rust and stains on the side of your cab and service body.  We use 2″ aluminum that measures 2.375″ on the outside.  We design custom racks to fit any make / model service body truck.  Our Knapheide racks are designed to fit service body trucks that have flip-top lids.  Above all, we fabricated racks for all types of trucks and vehicles.
Our standard aluminum ladder rack for Knapheide comes with a removable rear bar.  Removable Bars are great, because they allow you to forklift large items in the truck very easily.  4 Pins hold the bars in place, because 2 pin systems allow the racks to shake back and forth.  You can pull 3 pins and temporarily swing the bar out of place.  Auto-Retracting rack straps are very efficient.  You can fasten down your ladders or load within a couple of seconds.  Bungee cords are dangerous and can hit you in the eye.  Traditional ratchet straps waste time and are in the way when not in use.  Additional rack straps and cross members are certainly available.
Our racks are certainly not low-quality racks.  Ryder Racks are the strongest aluminum racks available.  We take pride in our aluminum ladder racks and stand behind our designs.  We look forward to helping you with you custom truck rack needs.
More Truck Rack Info
Click here for more information about our different aluminum truck racks.  You can call 910-632-4427 to speak with one of our custom truck rack experts.  Be sure to check out this video of our custom work truck racks.