Aluminum Ladder Rack for Rambox Truck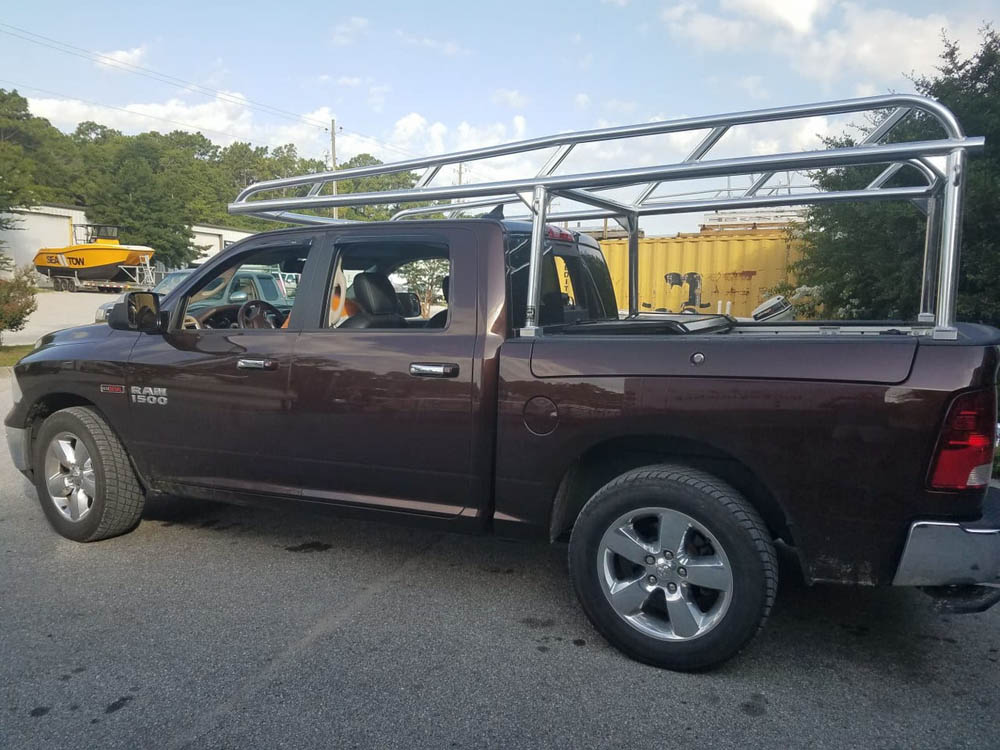 Aluminum Ladder Rack for Rambox Truck.  Rambox Rack for Ram Pickup Trucks.
Aluminum Ladder Rack for Rambox
We manufacture custom aluminum ladder racks for pickup trucks.  Anodized Aluminum creates the perfect Rambox Truck Rack.  Heavy-Duty aluminum truck racks are as strong as steel racks.  Aluminum racks will not rust, chip, or corrode.  Ryder Racks certainly do not rust like steel ladder racks.  2″ Pipe measures 2.375″ OD.  Above all, we custom build our Rambox Ladder Racks.
Ryder Racks come standard with Removable Rear Bar, Wind Deflectors, and Installation.  Removable Rear Bars certainly make it very convenient to forklift large items into the bed of the pickup truck.  The Wind Deflectors help muffle wind noise while traveling at high speeds down the highway.  Popular upgrades include Auto-Retracting Rack Straps and additional cross members.  Customers ask for all sorts of custom features for their racks.  Most noteworthy, we have a full-service machine shop, so the possibilities are endless.
Bed Cover for your Rambox
High Speed Welding also sells toolboxes and truck bed covers.  BAK bed covers are a great feature for Rambox pickup trucks.  Revolving, flip top, or sliding certainly offer a wide range of selection for bed covers.
Rambox truck racks carry ladders and materials.  In contrast, some customers use these pipe racks to carry kayaks and canoes.  Aluminum Ladder Rack for Rambox Truck can be designed in any of our custom Ryder Rack models.  Rambox racks install to the corner of the truck beds.  The racks are through bolted.  To install, the rambox needs to be removed so the nuts can be attached to the bottom side of the bolts.  Installation is about 1 hour at our Wilmington, NC Factory.
Click here to see our various custom ladder rack models.  You can call 910-632-4427 to speak with one of our rambox rack specialists.  Even more, here is a video of our Ryder Rack WELD.