Custom Aluminum Ladder Rack for a Flat Bed Truck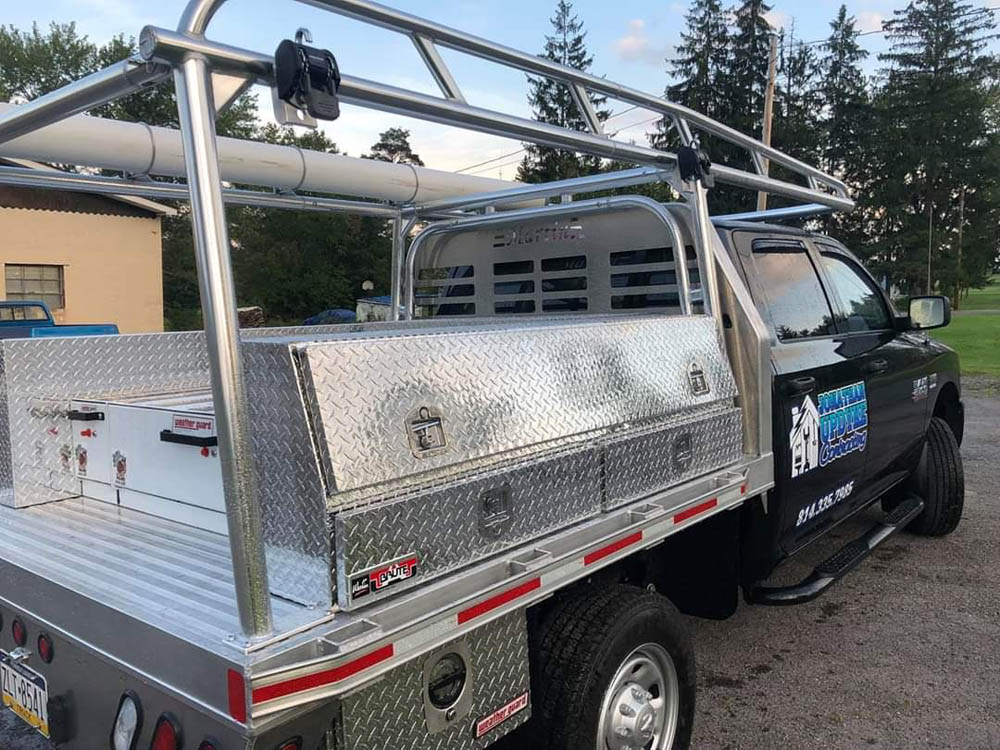 Ladder Rack for a Flat Bed Truck.  Heavy-Duty Ladder Rack for a flat bed pickup truck.
Ladder Rack for a Flat Bed Truck
Aluminum flat bed trucks do not typically come standard with truck rack racks.  We certainly fabricate custom ladder racks for pickups.  With some simple measurements, we can fabricated a ladder rack to fit any truck.  Anodized aluminum offers a protective shine.  Anodized aluminum will not rust, chip, or corrode.  Heavy-Duty pipe is used on all of our custom aluminum truck racks, because our racks are rated to carry a lot of materials.  Ryder Racks are rated to carry up to 2000 pounds.  They are certainly the strongest aluminum truck racks available.
Rack Straps are Efficient
Auto-Retracting Rack Straps are a great feature to add to any ladder rack.  They are certainly very efficient for strapping down ladders and materials.  The auto-retracting feature keeps you from having to crank up all of the slack.  Bungee cords are dangerous, because they can pop you in the eye.  The removable rear bar is also great for loading large materials. The bar removes within a few seconds.  Above all, removable rear bars can add back quickly and efficiently.
Toolboxes for Storage
The custom truck rack fits topsider toolboxes between the verticals.  This rack has plenty of storage for tools and equipment for any job site.  BRUTE toolboxes have a big door on top and 2 drawers on the bottom.  BRUTE drawers laid out with slits so you can insert dividers to separate items.  High Speed Welding sells different types of toolboxes.  We certainly can design a custom setup for your pickup truck.  As a result, customers drive from all over to have their pickups customized by High Speed Welding.
Click this link for more information about our Ryder Racks.  You can call 910-632-4427 to speak with one of our Custom Ladder Rack experts.  Here is a video that shows off some custom ladder racks for pickup trucks