Aluminum Ladder Rack for Tacoma Pickup Truck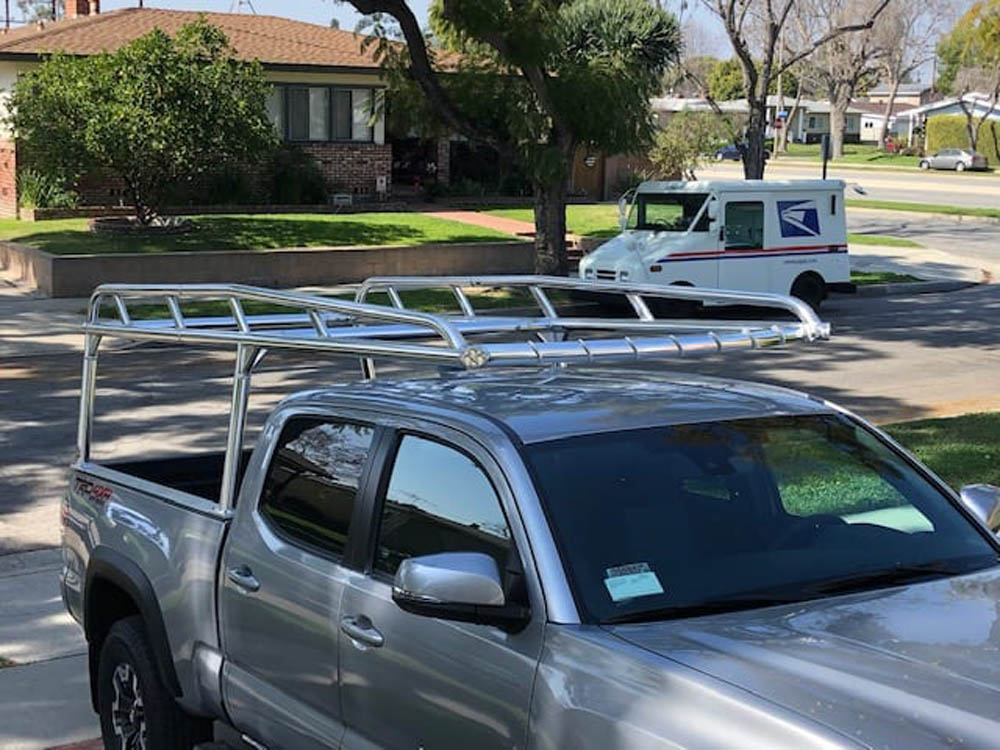 Aluminum Ladder Rack for Tacoma Pickup Truck.  Toyota Tacoma Truck Rack is a great tool to improve your truck efficiency.
Aluminum Ladder Rack for Tacoma
Ryder Racks are the best aluminum truck racks for a Toyota Tacoma.  Our truck racks are fabricated with anodized aluminum that will not rust, chip, corrode.  Heavy-Duty aluminum offers the strongest aluminum ladder rack on the market.  Ryder Racks do not rock or wobble like other ladder racks.  Stronger racks certainly last longer.  Ladder Racks for Tacoma pickup trucks are available in various rack models.
Our Ryder Rack BOLT comes standard with a Removable Rear Bar, because we want large items load into the bed of the truck with ease.  Pull a few pins and the bar is out of the way.  Wind deflectors eliminate wind noise while traveling down the highway at high speeds.  Other racks are loud and annoying at high speeds.  This ladder rack does not have any additional options, but we do offer all sorts of upgrades for our racks.
Auto-Retracting Rack straps are the most popular upgrade.  They certainly offer efficiency when loading and unloading materials.  Bungee cords are not heavily rated and are a hazard to your eyes.  Traditional rack straps are inefficient and take a long time to fasten down ladders and materials.  Additional cross members are great when hauling flimsy materials like PVC pipe or wood trim.  We can add as many cross members as you'd like and they can even be removable.  Above all, we are no stranger to a custom aluminum ladder rack for Tacoma.
Contact Us Today
Our Ryder Rack WELD is available to customers that are able to drive to our Factory for an installation.  We have other Ryder Rack models that break down for efficient freight, because people from all over want Ryder Racks.  Here is a list of all our custom aluminum ladder racks.  Call 910-632-4427 if you'd like to speak to a ladder rack expert.  Above all, check out this video our Ryder Rack SILVER.