Jones Brothers T Top – Boat Tee Top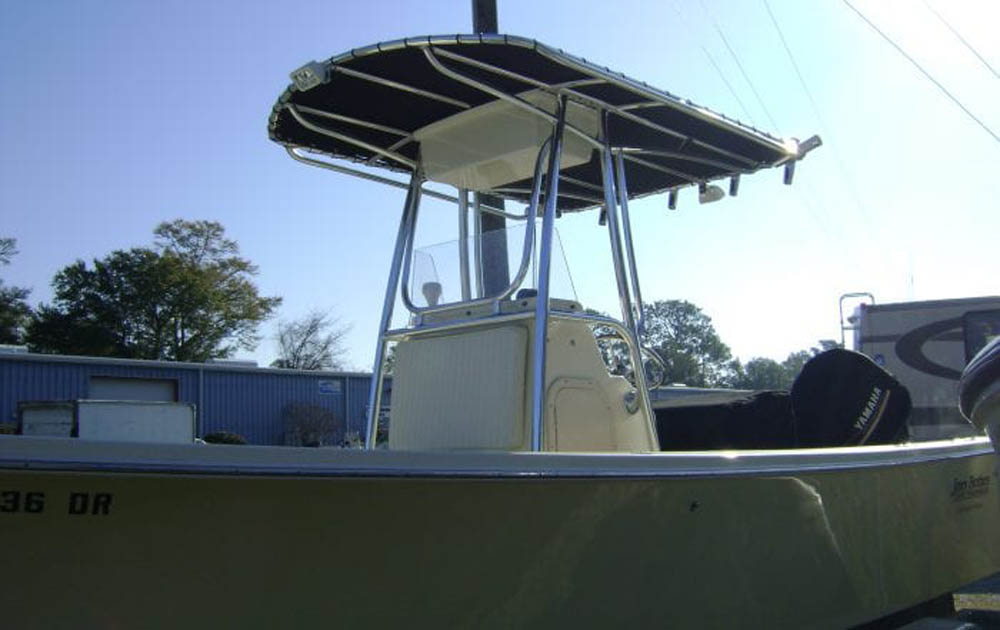 Jones Brothers T Top helps keep you in the shade and out of the hot sun.  Custom T Tops are a great addition to any Jones Brothers model.
Custom Jones Brothers T Top
T Tops built for your boat offer a lot of choices.  Special requests and choose which options that you'd like to have added.  Our standard Jones Brothers t top comes with 4 rod holders, black sunbrella canvas, anchor light, and installation.  Special options like a fiberglass radio box is certainly a great addition to any t top.  They offer a great storage location for not only electronics, but also wallets, keys, and sweatshirts.  A life jacket storage is helpful to open up another hatch or compartment on the boat.  LED Spreader lights light up the deck at night and do not draw too much power from the battery.
We design custom T Tops for each boat.  No matter which model Jones Brothers you have, we rest assured that it's going to be a snug fit to the console and all of the mounting brackets will be strong.  4 console mounts and 4 deck mounts are standard for our Jones Brothers T Tops.  Console mounts are strong and offer great rigidity to the t top.  T Tops that are not custom have mounting locations wherever the fall and it's not always in the strongest location.  Console mounts double as route tubes, so all of the wires that go to the lights are hidden within the pipes and not exposed.  Stainless steel bolts and washers through-bolt console mounts.  Stainless steel screws and marine adhesive fasten the deck mounts.
Black is our standard Sunbrella canvas color, but we have over 150 colors to choose from.  You can certainly choose any color you'd like when having a custom T Top built for your Jones Brothers boat.  Sunbrella is the industry leader and we use Tanara thread when sewing our canvas T Tops together.
Contact us for more information
Click here for pricing and more information about our custom t tops.  You can call 910-632-4427 to speak with one of our t top specialists.  We also have this informative video about our t tops for boats.