T Top for Parker 1801 – Custom Parker T Top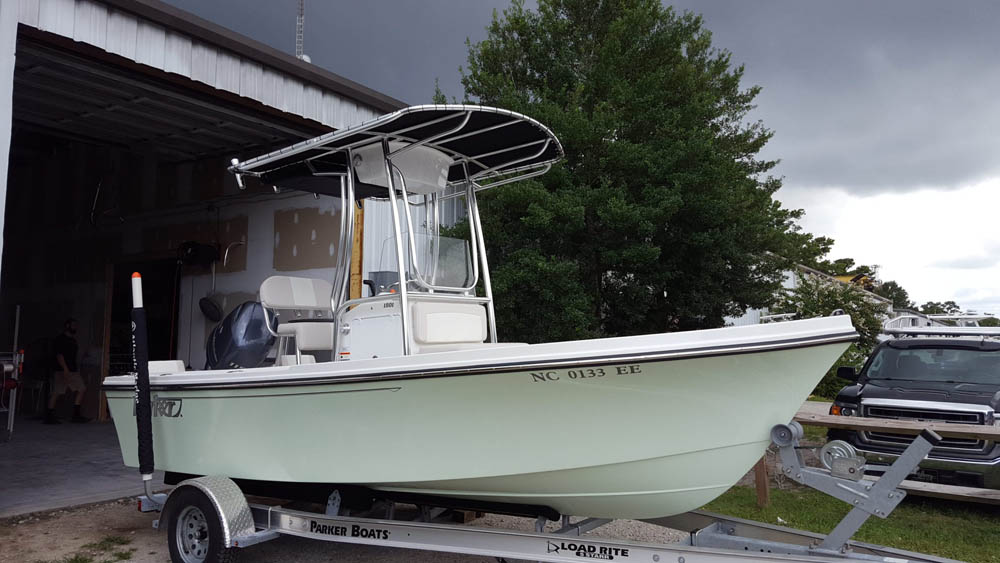 Boat T Top for Parker 1801 center console.  Custom Aluminum Boat T Top.
T Top for Parker 1801
High Speed Welding builds custom T Tops for Parker boats.  Custom T Tops for Parker boats are a specialty of ours, because we manufacture T Tops for Parker Boats.  We have a jig for all Parker center consoles.  Customers bring their boats from all over to have us install Parker T Tops, because we're the best.  High Speed Welding T Tops are fabricated with anodized aluminum.  We also offer powder coated aluminum t tops.
Standard T Tops include 4 rod holders, a sunbrella canvas, anchor light, and installation.  Sunbrella is the leading canvas manufacture.  Customers can choose from over 150 canvas colors.  A Radio Box is the most popular upgrade.  It offers storage for not only electronics, but also a catchall for wallets, keys, and sweatshirts.  Life Jacket storage is great for keeping 5 life jackets out of the way, because it frees up a hatch or compartment that can be used for other things.  LED spreader lights light up the deck at night.  Some people get 1, but most customers get 2.  King Fish rod holders angle out the sides.  People use these for trolling.  We offer a long list of T Top accessories.
T Tops for Parker 1801 mount in secure locations.  4 console mounts and 4 deck mounts are certainly sufficient for installation.  Console mounts are through bolted with stainless steel nuts and bolts.  We screw deck mounts and glue them with marine adhesive for a strong bond to the boat deck.  Both deck mounts are tucked in close to to the console, because it allows plenty of walk space throughout the boat.
Need More T Top Information?
Click here for more information about our Parker Boat T Tops.  You can call 910-632-4427 to speak with one of our T Top experts.  Above all, be sure to check out this video that talks about our custom boat t tops.