Custom Aluminum Ladder Rack – Truck Rack For Ram 1500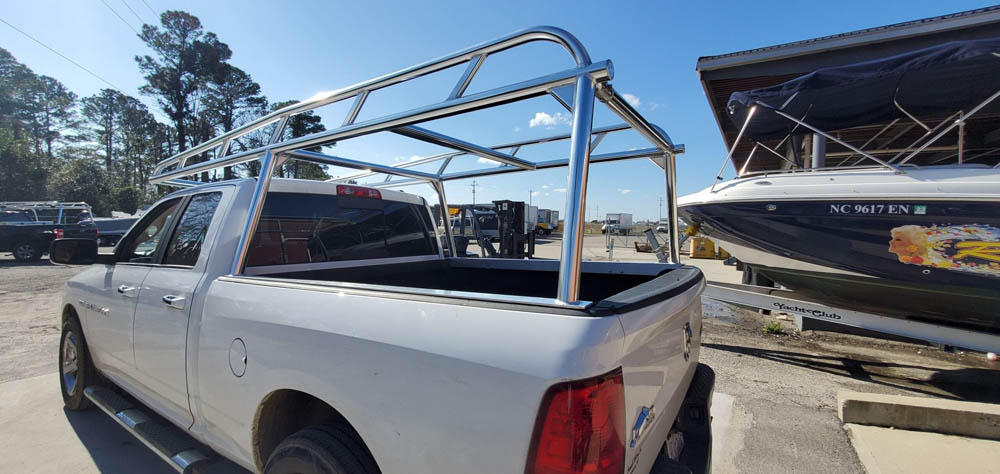 We just installed this custom aluminum ladder rack on a ram 1500.  This rack is our Ryder Rack WELD, so it came standard with a removable rear bar, wind deflectors, and free installation.  All of our ladder racks are fabricated with schedule 40 and schedule 80 aluminum.  We use thick wall pipe, to classify as a heavy duty ladder rack.  Our Ryder Rack WELD is only avaible for local installations, however we do offer a modular rack for freight.
The Ryder Rack SILVER is a custom truck rack that we can freight all across the country, because it breaks down by the middle bars.  The entire left side and right side of the rack are fully welded.  Our Ryder Rack SILVER is as strong as the WELD, because we use solid aluminum connectors.  The solid aluminum frame is actually stronger than the fully welded rack we offer.  Both look and function the same, so the only difference is logistics.
If you have any questions about our custom aluminum ladder rack, please do not hesitate to give us a call: 910-632-4427.  We are available between 8:00 – 4:30 to take your call.  You can also send us an email through our contact page.