Residential Aluminum Handrails – Custom Handrails for a House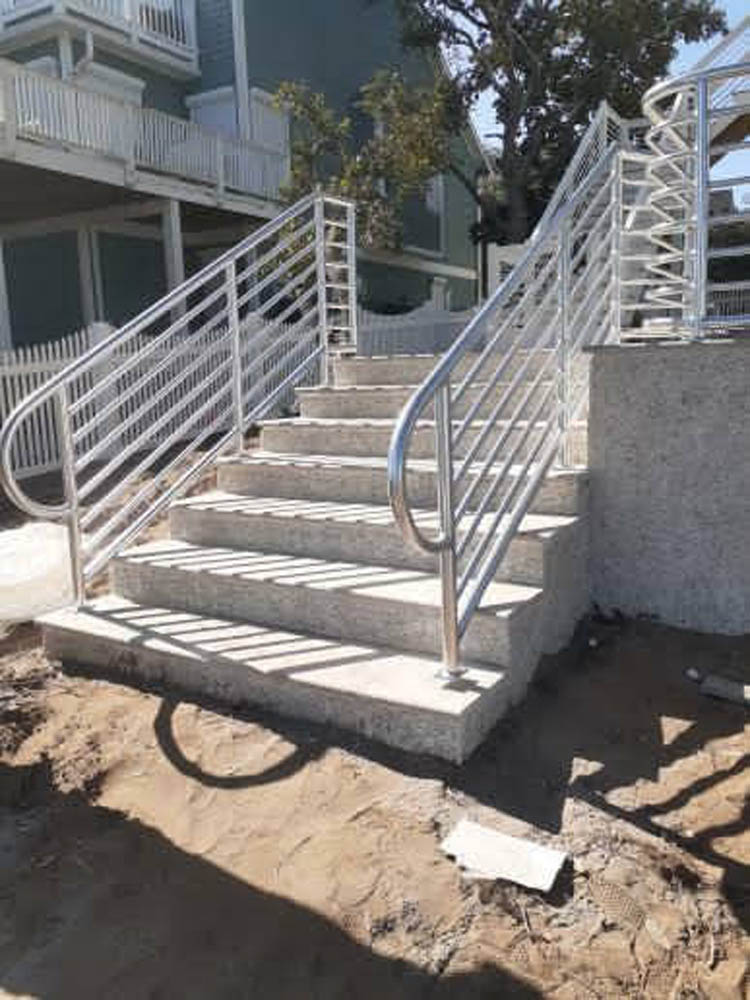 We installed a brand new set of residential aluminum handrails.  These were custom handrails for a house.  Residential handrail code has a lot of rules and regulations about how handrails need to be designed and installed.  The rules have changed and now all openings cannot be wider than 4″.  Vertical and Horizontal openings are limited to 4″, so we created this style that is very appealing.  The large pipes are 1.5″ aluminum pipe, because they are the main frame of the rails.  The inner handrail rungs are 3/4″ pipe and keep the spacing low, but also the visibility high.
We are located in Wilmington, NC and install handrails for local home builders.  Our handrail design is great for both residential and commercial applications.  We offer mobile welding services for not only handrails, but for other mobile welding jobs.  Our generator is capable of running our handrail welders for final assembly.  We do our best to fabricate the handrails at our Factory and the the handrail installation on location.  We do that, because it's hard to transport fully welded handrails.
Our crew is very experienced and has a great understanding of style and function.  High Speed Welding's slogan is Style Meets Utility, because we know that these are two very important aspects when welding residential aluminum handrails.  For more information, please visit our contact page or give us a call at 910-632-4427.  If you are a builder of home or docks, also check out our aluminum gangways video.