Aluminum Ladder Rack – Truck Rack For Ram Regular Cab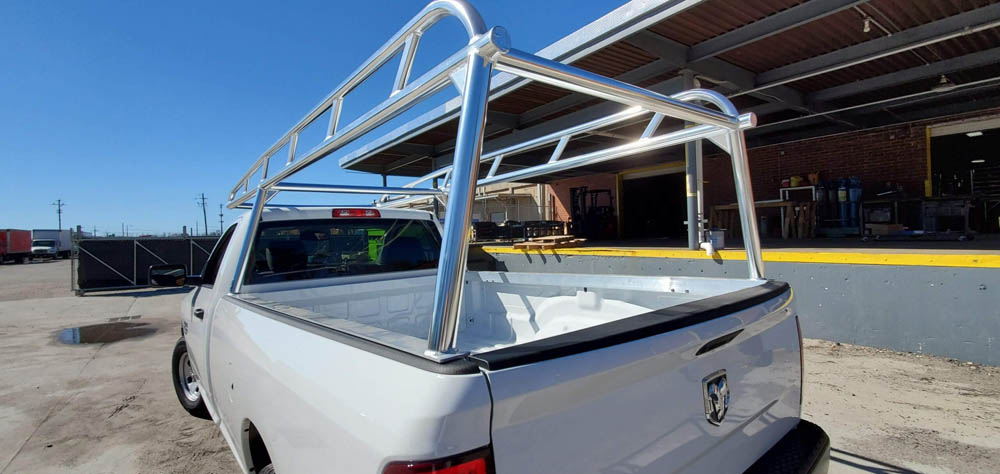 We just installed an aluminum ladder rack.  This truck rack for ram regular cab is our Ryder Rack WELD.  Our WELD is a fully-welded ladder rack.  They come standard with a removable rear bar.  This customer asked that his rear bar be solid.  All of our truck racks are built to order, so custom modifications are available.
The most popular upgrade is a set of auto-retracting rack straps.  They are great, because they are quick and efficient.  They are spring-loaded, so the slack is retracted automatically.  We can weld the strap brackets anywhere along the primary bar, so just let us know where you'd like them.
Our aluminum finish is anodized, however we do offer powder coating.  Powder coating is durable and available in over 100 colors.  Since powder coating is an extra cost, most of our racks have the shiny finish.  Some customers ask us to have them racks coated with bed liner material.  This is even more durable, however the color choices are limited.
Please don't hesitate reaching out in regards to our aluminum ladder racks.  We offer this fully-welded design for our local market, however we have customers drive from all over.  If you're not able to drive to our Factory for the installation, check out our Ryder Rack SILVER.  This is a modular style rack that we're able to freight across the country.  You can watch a YouTube video that shows off our custom aluminum rack features and accessories.  You can call 910-632-4427 to speak on the phone or reach out through our contact page.