Ram 1500 Ladder Rack – Custom Aluminum Truck Racks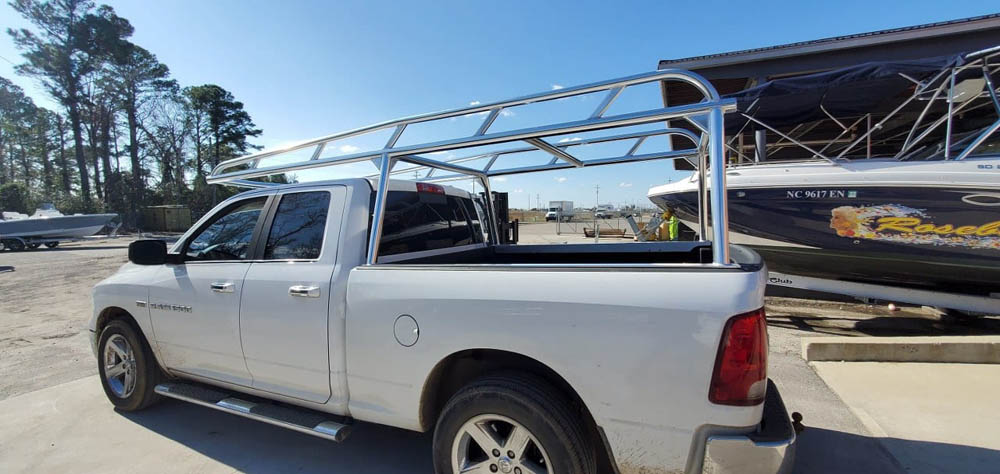 We just installed this Ram 1500 Ladder Rack.  Our custom aluminum truck racks are fabricated with heavy-duty pipe.  They come standard with a removable rear bar, wind deflectors, and installation.  Ryder Racks are fully-welded ladder racks built specifically for the trucks they're installed to.  We offer several upgrades, such as auto-retracting rack straps and additional crossbars.  The auto-retracting rack straps are very popular, because they speed up the time it takes to load your rack.  They are spring loaded, so they're very easy to use.
Anodized aluminum is our standard finish, however we offer powder coating.  Powder coating is available in a bunch of colors, so you have a lot to choose from.  The wind deflectors come standard, because they eliminate highway noise.  We used to get complaints about our racks being loud, so we made them standard.  The removable rear bar is great, because it can easily be moved out of the way.   This lets you load and unload large items, such as refrigerators and HVAC units.
Please don't hesitate reaching out if you have questions about a Ram 1500 ladder rack.  We can be reached by calling 910-632-4427 or through our contact page.  If you're not able to come to our Wilmington, NC Factory for the installation, be sure to check out our Ryder Rack SILVER.  We can freight this truck rack anywhere in the country.  Here is a video that's dedicated to those aluminum truck racks.  Here is a link to all of our aluminum ladder racks.