Hard Top Frame on Albury Brothers 27′ Boat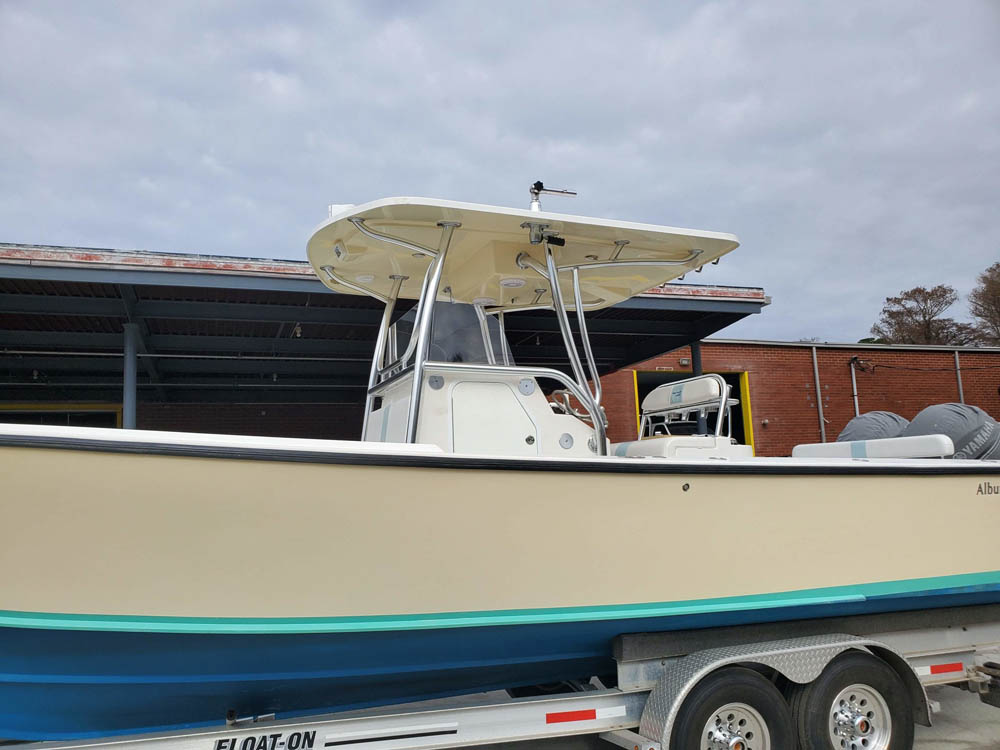 Project Details
We just installed an Aluminum Hard Top Frame on this late model Albury Brothers 27′ Boat.  The customer previously had a factory hard top frame that came with the Albury Brothers Boat, but it cracked.  Albury Brothers did not honor the warranty, so the customer brought the boat to us for a consultation.  The hard top frame that was provided by Albury Brothers was in such disarray, we suggested that we fabricate a new aluminum hard top frame.  We were able to use his existing fiberglass hard top and use all of the existing mounting locations.  This was very tough from a fabrication standpoint, but were were able to make it work.  We went the extra mile to make sure this top fit the boat the way it should.
What They Did Wrong
Albury Brothers built their aluminum hard top frame with thin-walled pipe.  We built our frame with heavy-duty anodized aluminum that is schedule 80 pipe.  The heavy-duty pipe that we used will keep the hard top frame from cracking.  The Albury Brother's factory design was not sleek at all and did not look very well.  We put a slight bend in the aluminum pipe so that it has a nice flow.  The pipe work looks sleek and helps make the boat look great.  The existing hard top was mounted to the console and it was not a strong design.  We designed the frame so that it mounted to the floor.  This provided much more stability to the hard top and more surface area to help distribute the weight.
The original fiberglass hard top is very heavy which caused most of the issues.  The aluminum hard top frame should have been designed in a way that it would not crack like it did.  Our design includes 4 mounts that fasten to the boat's deck and 4 mounts that fasten to the boat's console.  All of the console mounts were through-bolted with stainless steel hardware to ensure that their is no rust from the bolts, nuts, or washers.  When we installed the deck mounts, we used 5200 marine adhesive to give extra support.  This customer can be confident that this top will hold up.
Contact Us
We have been in business since 2005 and would love to talk to you about your custom project.  We recommend designing a hard top from scratch rather than try to cover up someone else's mistakes.  Fresh starts keep things very simple from a design standpoint.  We have several fiberglass top variations and sizes for you to choose from.  Our Fiberglass hard tops come with a warranty so that you can have piece of mind after the job is complete.  Please click here for more information about our Custom Boat Hard Tops.  Our Boat Hard Top Experts can be reached through our contact page.