Toyota Tacoma Ladder Rack – Custom Aluminum Truck Rack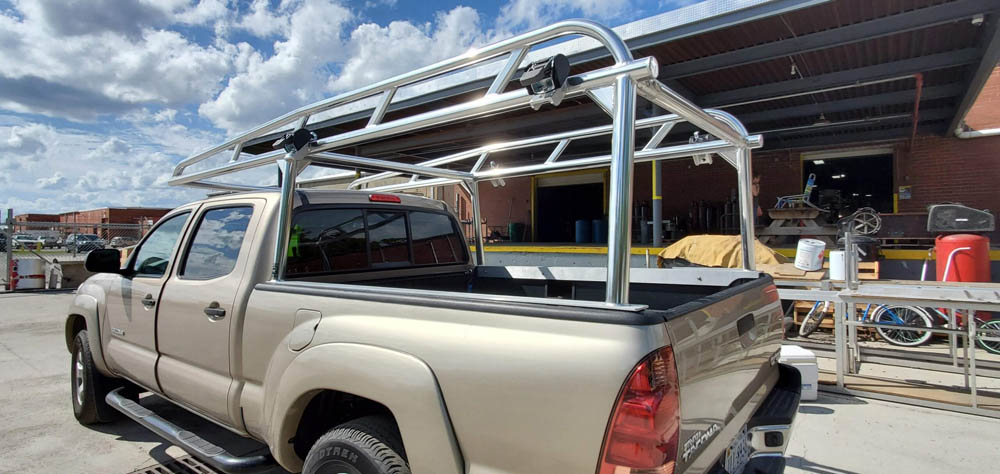 Today we installed a toyota tacoma ladder rack.  This custom aluminum truck rack was built specifically for the truck that it's mounted to.  All of our ladder racks are built to order, so you can be sure that it's going to fit.  We use heavy-duty aluminum for all of our truck racks.  They are the strongest aluminum racks on the market.  Our Ryder Rack WELD comes standard with a removable rear bar, wind deflectors, and installation.
The most popular upgrade for these truck racks are the auto-retracting rack straps.  They are the most popular, because they speed up the time it takes to load the racks.  The auto-retracting feature is very easy, so they save time.  We can weld in additional cross members, however we recommend not adding them about the cab.  Cross members over the cab can cause wind noise, because of the air rushing between the bar and the cab.  This toyota tacoma ladder rack has an overhang that is positioned just above the windshield.
Our fully-welded truck racks are only available for local installations at our Wilmington, NC Factory.  However, we offer a slightly modular truck rack that can be freighted to the lower 48 states.  Please do not hesitate to contact us through our contact page for more information, and check out this YouTube video for our modular aluminum ladder rack.