Hardtop For Dual Console – Grady White Boat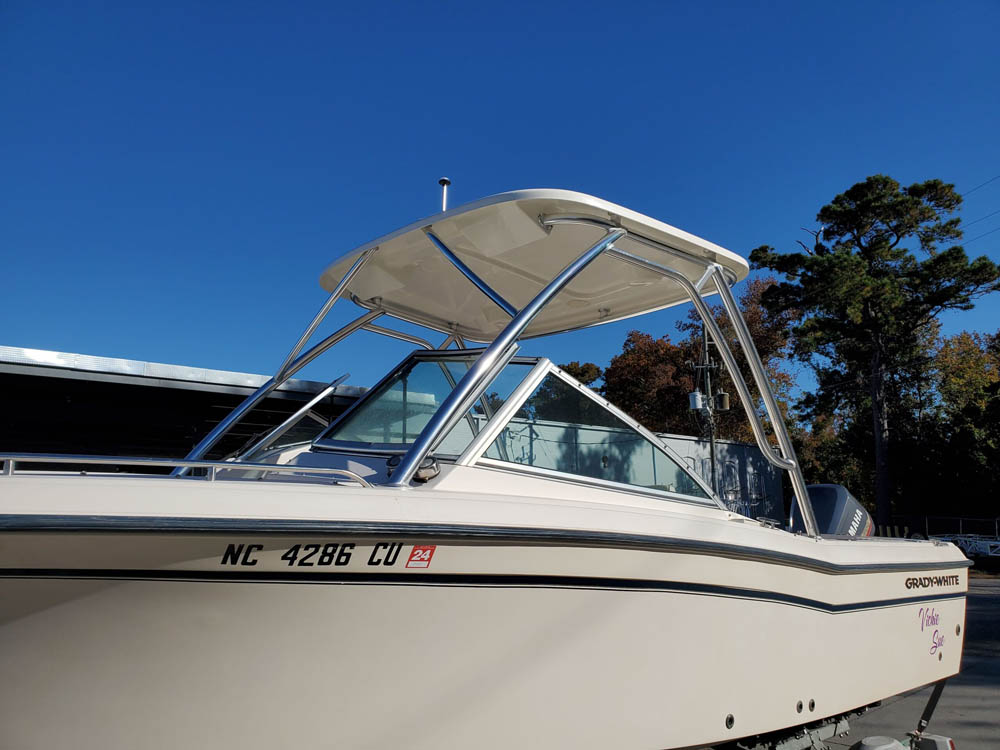 We just installed this custom hardtop for dual console boat.  The fiberglass hardtop has 2 small radio boxes, 2 light pods, and 2 speaker pods.  The customer opted to add the 2 LED spreader lights, but plans to add speakers later.  The pipe is 2″ and used for the aluminum hardtop frame.  Using big pipe is advantageous, because it's much stronger and requires less bracing.  Keeping a low-profile design is important to optimize on visibility and style.
Rod Holders are an available option for our custom hard tops.  8 Rod Holders can easily be added without getting too crowded.  The tower design has an incorporated wire chase through the frame.  Wires are hidden and not exposed.  The anchor light is mounted to the top of the tower and can be folded down.
Since all of our custom hardtop for dual console towers are custom designed, we would need the boat at or Factory for the fabrication and installation.  We take a lot of time and consideration into designing each tower.  Style and Utility are both important when building a custom half tower.  Canvas half towers are a popular option as well.  We offer more than 155 colors to choose from.  Anodized aluminum is standard, but customers have the option to have their tower powder coated.
Please visit our contact page if you're interested in a custom half tower.  We also build other type of custom boat towers for center consoles.