Chevy Truck Rack for 8′ Bed – Aluminum Ladder Rack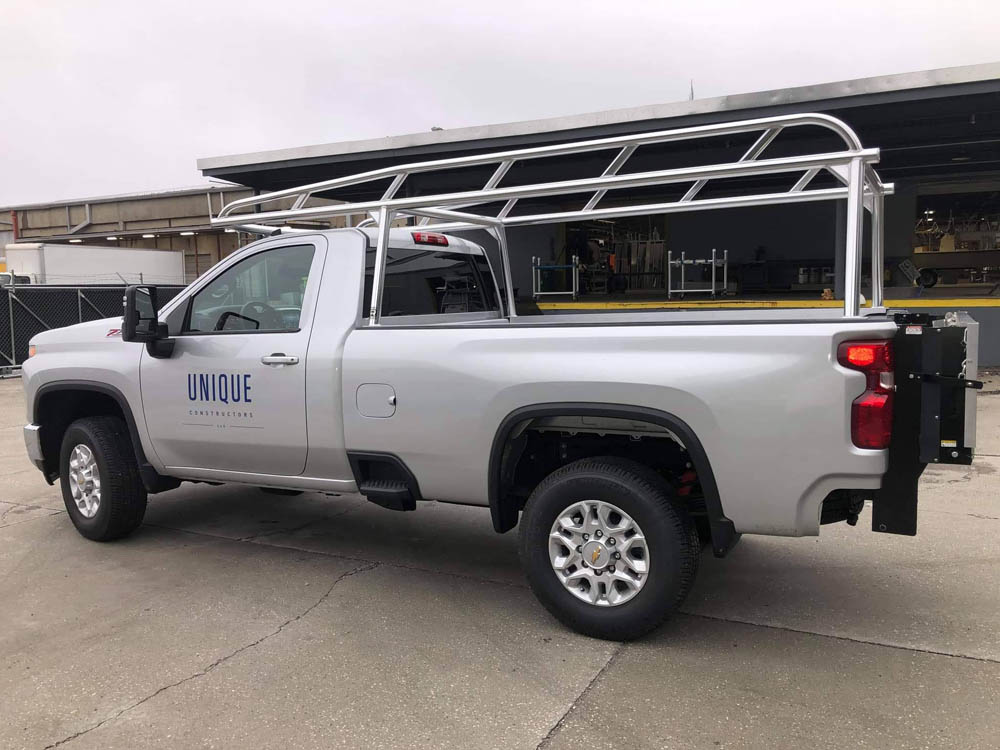 We just installed this Chevy Truck Rack.  This Chevy truck has a regular cab and 8′ bed.  Every Ryder Rack is custom built, so fitment is always perfect.  The Ryder Rack WELD comes standard with a Removable Rear Bar, Wind Deflectors, Full-length Bed Rails and Installation.  Several truck rack accessories are available for custom ladder racks.  The most popular upgrade is auto-retracting rack straps.  Most customers get 4, however some customers get 6.  The rack straps are quick and easy to use, because they are spring loaded.
Our aluminum ladder racks are fabricated with heavy duty pipe.  They are very strong, so we don't recommend loading more than what your truck is rated for.  This Chevy truck has a liftgate and the rack does not interfere.  The removable rear bar is a great feature, because this customer is able to load large items.  Additional crossmembers can either be stationary or removable.
This Ryder Rack Ladder Rack is our fully-welded design, however we offer a modular design.  The Ryder Rack SILVER is available for customers that are not able to drive to our Wilmington, NC Factory.  This heavy duty ladder rack is as strong as the truck.
Please give us a call if you have any questions about this Chevy Truck Rack.  We can be reached through our contact page.  Here is a link to our Custom Ladder Rack Video.