Ladder Racks for Work Trucks – Top 3 Benefits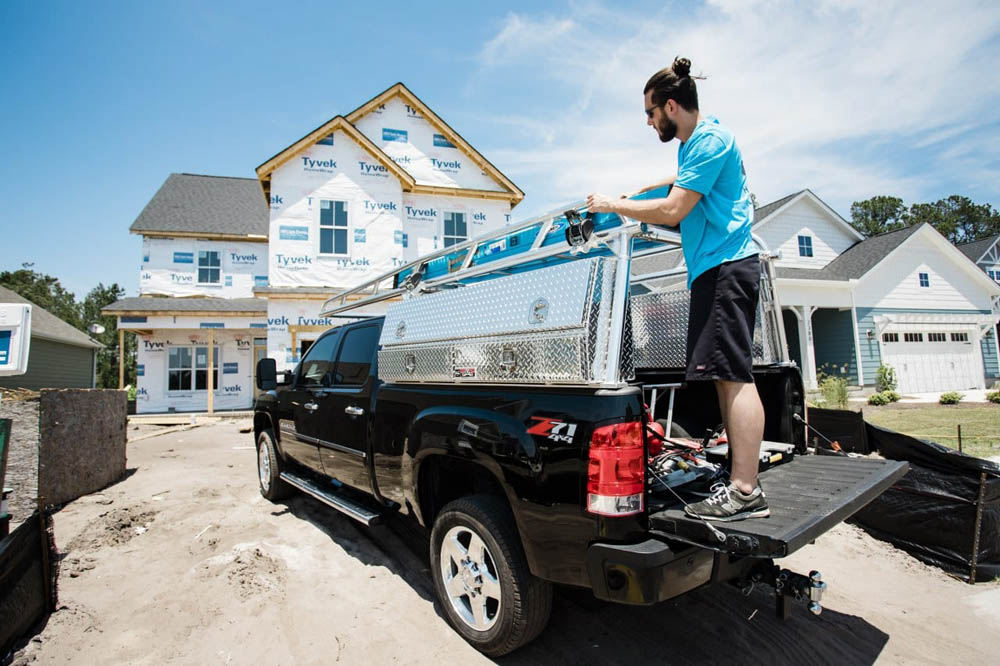 If you've considered purchasing a set of aluminum ladder racks for your work truck, you may have some concerns.  Learn the top 3 benefits of purchasing a ladder rack for your work vehicle.
Get more cargo space
Rather than cramming things into the bed of your work truck, ladder racks deliver extra cargo space instantly. Rather than place a large ladder in the bed of your truck, you can secure it on top of your van or truck and fit more in the truck.  It's a very cost-effective solution.
Work more efficiently
If you stop and think about it, you'll quickly realize how much time it takes to load ladders in your truck.  Our auto-retracting rack straps help get everything stored up top much faster than using bungee cords or straps.  This makes your drive to the job site and contractor store much more efficient.  When your ladders and materials are stored properly, you are able to work more efficiently.  Cleaning up the job site is simpler too. With your ladders and materials properly placed about the truck, you'll have more space in your truck bed for tools and equipment.
Secure storage
Trucks are expensive and if your ladder isn't properly stored, it could become damage your truck.  Ryder Racks keep ladders and materials stationary, so you don't need to worry about anything slipping or falling.  Always buy the best ladder rack you can afford, as it will perform better and last longer than a budget version of this work essential.
More Information
For more information about Ryder Racks, check out our Ladder Racks page.  We are glad to answer any questions that you might have about our racks and how they are better than others.  You're welcome to call 910-632-4427 and speak with our rack experts as well.  Here is a video that has more information about our Custom Ryder Racks.