Aluminum Truck Rack for Pickup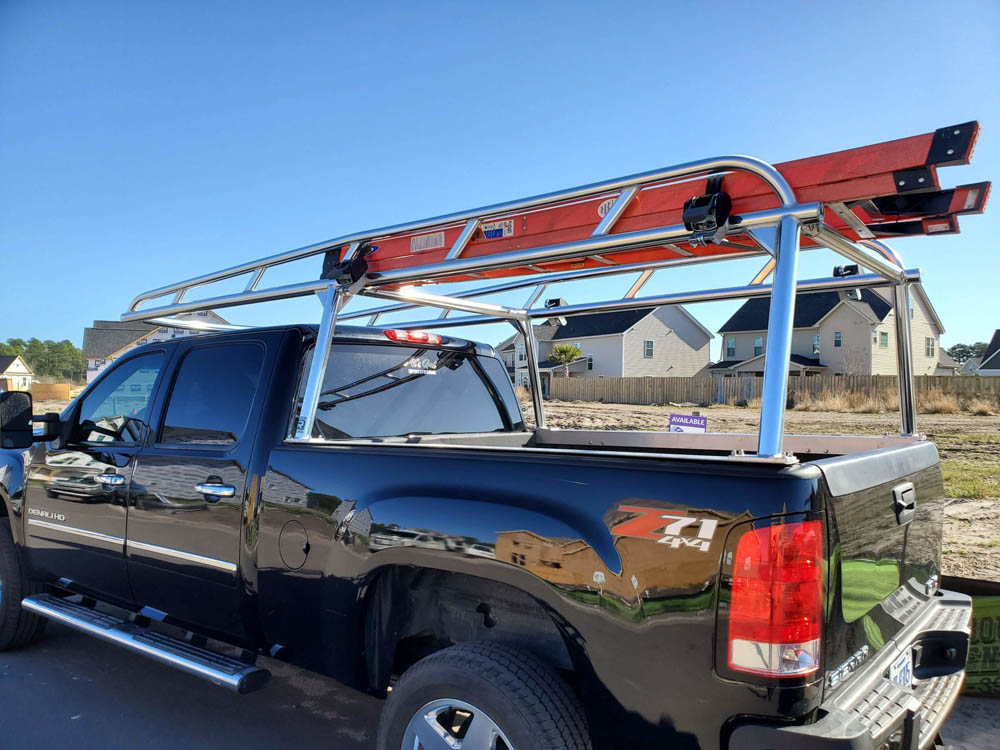 Check out these photos of an aluminum truck rack for pickup.  This rack is what we call our Ryder Rack SILVER.  It comes standard with (4) auto-retracting rack straps, removable rear bar, wind deflectors, and full-length bed rails that offer a no-drill installation.
We fabricate our Ryder Racks with 2″ heavy-duty aluminum that allow the end user to maximize carrying capacity.  The aluminum pipe is 2″ is anodized, so the rack with not rust, chip or corrode.  All hardware used is stainless steel.  We go the extra mile when fabricating this aluminum truck racks.
The integrated rack straps allow users to load and unload ladders efficiently.  If the users wanted to forklift a large item into the bed of the truck, they could remove the rear bar and load materials in between the aluminum truck rack.  When the user is using the aluminum truck rack at high speeds on the highway, they can enjoy the quiet design because wind deflectors are included on the racks.  The Ryder Rack is installed using a clamp-on method, so not drilling is required for installation.
We offer this rack at our Wilmington, NC Factory, but we are also capable of shipping these aluminum truck racks to a dealer near you for a professional installation.  We have certified dealers that make purchasing a breeze and take the headache out of logistics and installation.  Here is a link to our dealer locator map.  You can purchase these truck racks through our website and we can ship them to a dealer near you.
Fore more information, please visit our Aluminum Truck Racks page.  We also have several blog posts about ladder racks for pickup trucks.  You're welcome to call 910-632-4427 to speak with one of our ladder rack experts.  Here is a video that shows all of the features for our Ryder Rack SILVER.