T Top for Boston Whaler Boat – 220 Outrage T Top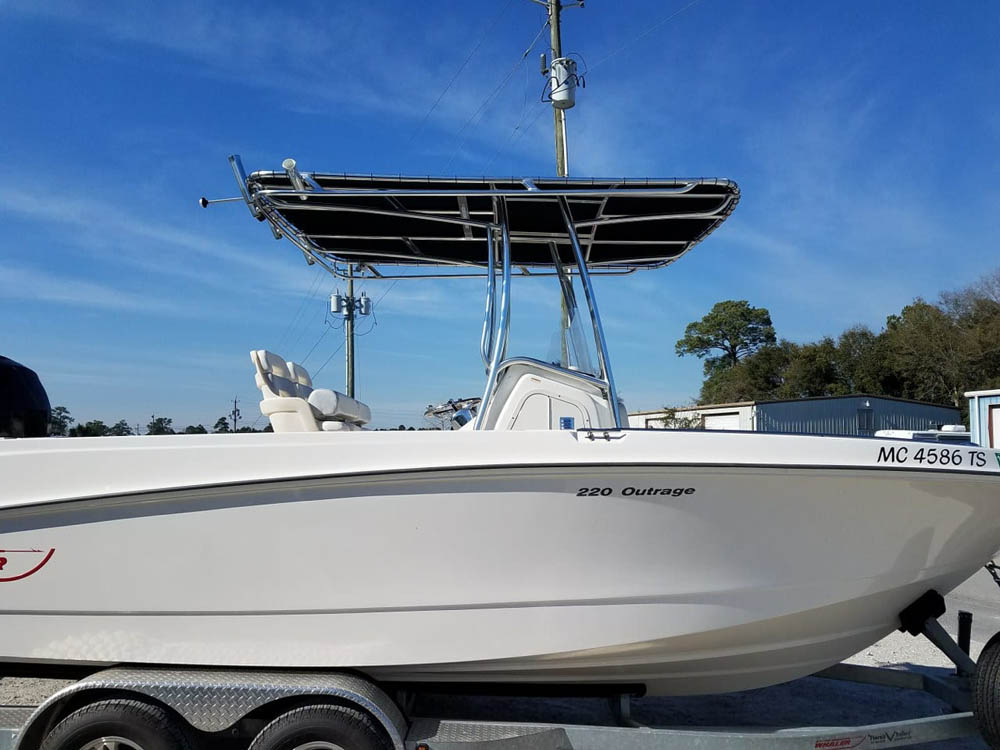 T Top for Boston Whaler Boat.  Custom T Top for 220 Outrage are a great addition to the boat for coverage and rod storage.
T Top for Boston Whaler Boat
First of all, custom T Tops are fabricated for the boats that they're installed to, because that is better than one-size-fits-all.  We can take into consideration the location of every mounting location.  Deck supports are attached close to the console, because foot room is important.  Console brackets fasten to the console.  We use stainless steel hardware for fastening the T Top to the boat, because stainless steel hardware does not rust.  Marine adhesive provides a secure bond to the Boston Whaler deck.  Above all, custom T Tops secure very well to the boat.
Standard Options and Upgrades
Our standard T Tops come standard with 4 rod holders, anchor light, and a Sunbrella canvas.  Sunbrella is the industry leader.  Black is the standard color, but you can certainly choose from over 150 colors when you drop off your boat.  This customer added 2 additional rod holders.  The grab rails are wrap-around from each side and around the rear of the t top.  A rear spreader light is certainly great for lighting up the cockpit area at night.  The overhead LED lights up the console.  Overhead lights can come in white, red, or blue.  Radio boxes are an option for your custom T Top for Boston Whaler.  This 220 outrage T Top is not only stylish, but it is also functional.  The shade provided from the sun is cool and breezy.
This Boston Whaler is from Michigan.  We typically need a boat for about 2 weeks in order to built a custom t top.  Special considerations can be made for customers that want to wait a few days while we build the t top.
Click here for pricing and more information about our custom t tops.  You can call 910-632-4427 to speak with one of our t top experts.  Here is a video about our aluminum boat t tops.