T Top for Key West Center Console Boat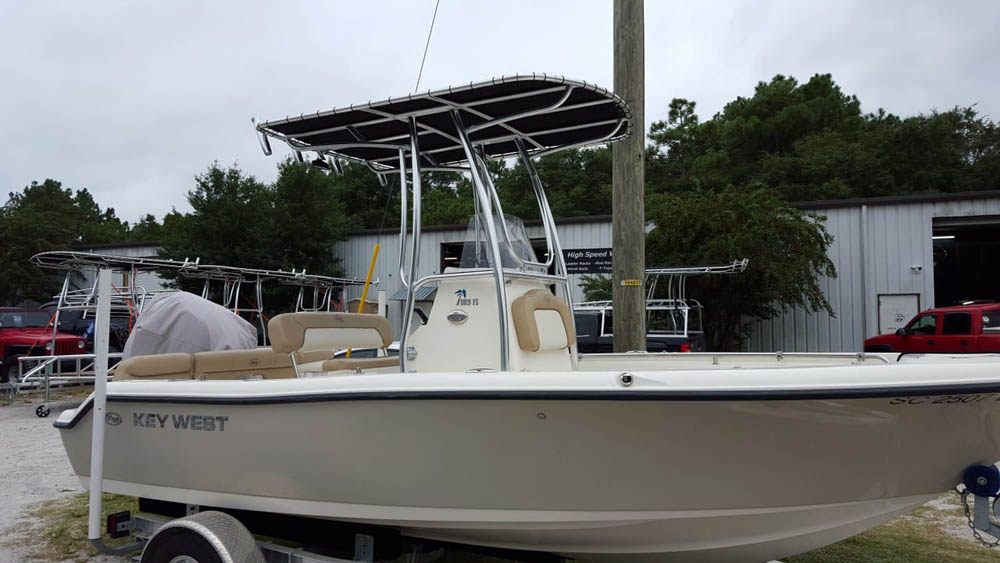 High Speed Welding fabricates custom T Tops for Key West Center Console Boat.
T Top for Key West Center Console Boat
Key West T Tops are a great addition to the boat.  They offer shade and function.  We fabricate our custom T Tops with anodized aluminum, because it will not rust or corrode.  Our standard T Top includes 4 rod holders, Sunbrella canvas, anchor light, and installation.  Sunbrella is the industry leader for marine canvas.  We offer over 150 colors to choose from for your custom Key West T Top.  You can certainly add accessories to your T Top.  The most popular upgrade is a fiberglass radio box.  They are great for storing radios, but also a great place for wallets, keys, and sweatshirts.  Life Jacket storage is our 2nd most popular option.
Adding a Life Jacket Storage allows you to keep 5 life jackets above head and out of the way.  LED spreader lights are great for lighting up the deck.  Some customers get 1, but most get 2.  We offer grab rails, extra rod holders, and other T Top accessories.  We build every T Top to order, because they are designed for the boat's that they're installed to.
Our T Tops have 4 console mounts and 4 deck mounts.  Console mounts are through bolted with stainless steel nuts and bolts.  Deck mounts are installed with stainless steel screws and marine adhesive.  We tuck in all mounts in close to the console so that they're not in the way of walking.  We position all mounts in strong locations so that the T Top holds up in rough seas.
You can purchase your Custom Aluminum Boat T Top here.  You can also call 910-632-4427 to speak with one of our T Top experts.  Above all, be sure to check out this video for our Custom Boat T Tops.