Boston Whaler T Top – Boat T Top For 220 Outrage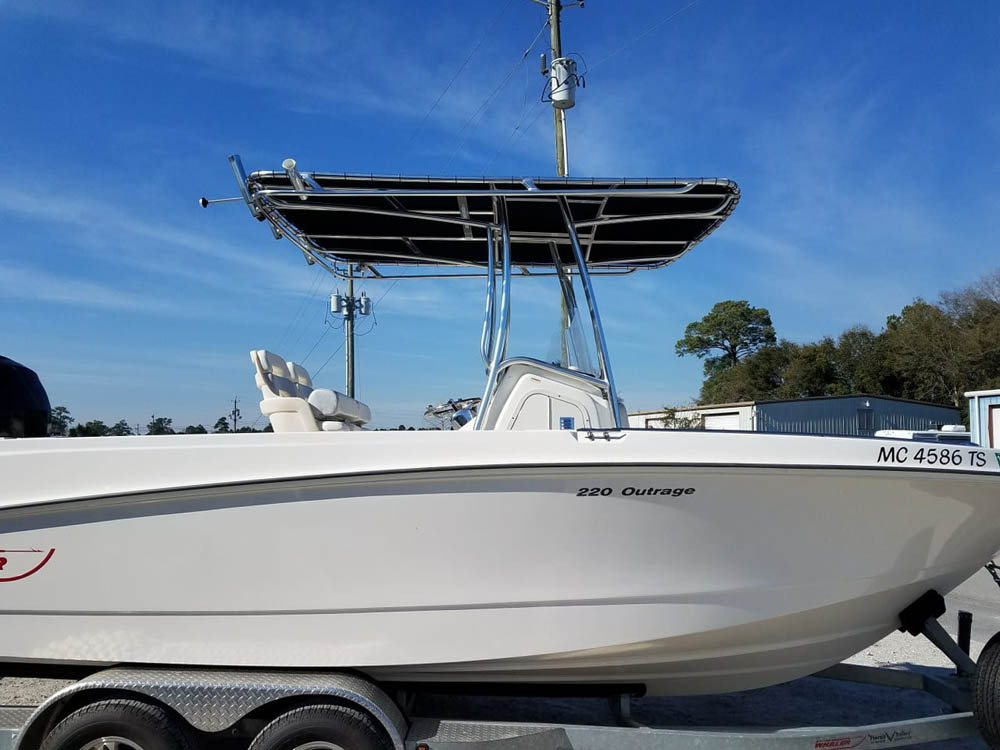 We just installed this Boston Whaler T Top.  Our custom canvas t tops come standard with 4 rod holders, sunbrella canvas, anchor light and installation.  We offer several upgrades for our t tops, such as radio boxes and life-jacket storages.  The electronic boxes are great, because they offer a place to install your VHF.  The life-jacket storages keep up to 5 life jackets over head and out of the way.
This Boston Whaler received wrap-around grab rails with integrated kingfish rod holders.  The grab rails are great for holding on to and the rod holders are for trolling.  The LED spreader lights are a big help, because they light up the deck at night.  We have other options that you can add on well.  We use Sunbrella canvas, because it's the industry standard and available in more than 155 colors.  Anodized aluminum is the standard finish of our aluminum pipe, however powder coating is available.
The Boat T Top for 220 Outrage was a fun build, because the console is different than most boats.  We did our best to follow the lines of the console and make the T Top legs look good.  We used a large T Top ring, so that there is a lot of coverage from the sun and rain.
Please don't hesitate reaching out if you have any questions about our Boston Whaler T Top.  We can be reached by calling 910-632-4427 or through our website contact page.  We have a YouTube video dedicated to our custom canvas t tops and here is a link to see our canvas and fiberglass T Tops.