Custom Cobia Tower For A Center Console Boat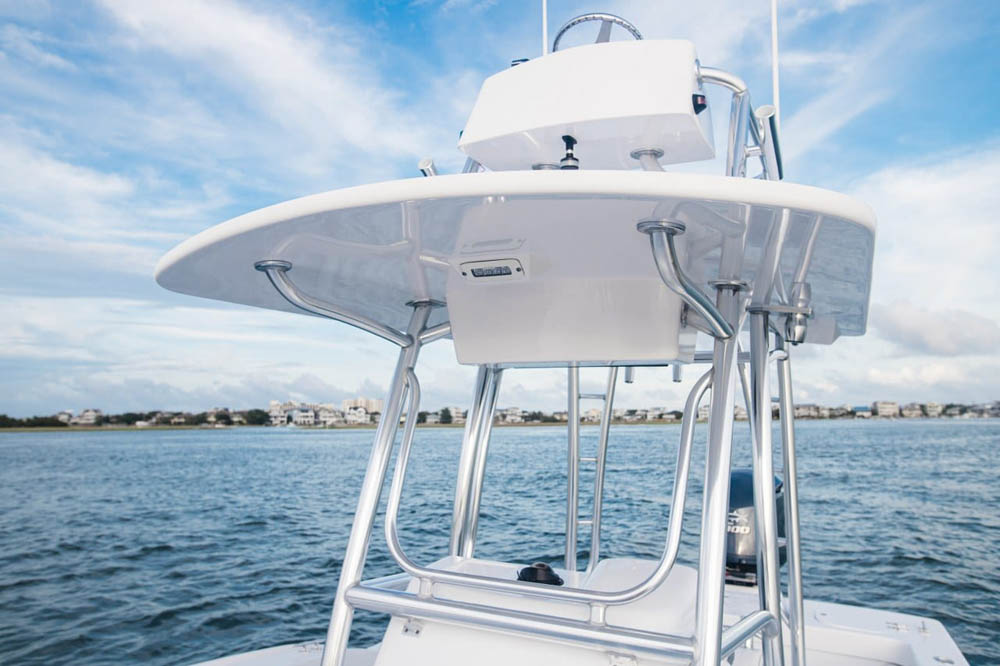 Custom Cobia Tower For A Center Console Boat is the best way to get higher and see fish.  Cobia Towers include a helm station up top that allow you to drive the boat.  Above all, they help you catch more fish.
Rather than adding on to an existing tower
We prefer to build Cobia towers from scratch.  It's not best to add a cobia tower to an existing T Top or Hard Top.  Helm stations aren't designed to be integrated on most T Tops and Hard Tops.  Custom Cobia towers include a ladder and wire chase for the consoles and cables.  Canvas tops do not offer a solid foundation to stand.  Standard T Tops are not strong enough to support the weight of an upper station and helm box.  Above all, it always looks like an afterthought to add a helm station to an existing T Top.  If you want your boat to look great, let's start from scratch.
We design towers from the top down.  Style is almost as important as utility.  A Top/Down design keeps the tower symmetrical and clean.  Total height is important for boats that need to travel down the road.  Cobia Towers should measure less than 13'6″ to safely trailer the boat.  13'6: is the legal limit to travel without a special permit.  A lot of wear and tear on your wires and cables happens when a tower folds, as a result they'll need to eventually be replaced.  Looks and style are greatly infringed when the tower is required to fold.  Non-folding towers allow the control cables to flow evenly through the pipe without any issues.  We fabricate our custom boat towers with 2″ heavy-duty aluminum.  Above all, wires and cables are easier to pull through the larger pipe.
Custom Cobia Tower Features
High Speed Welding Towers use a custom designed helm box.  As a result, these sleek helm boxes are only available on our custom cobia towers.  Other helm boxes are bulky and do not look great.  Our towers include outrigger mounts that accept TACO base plates.  Rod holders are a must for storage.  For lighting, we include 1 forward LED and 2 rear LED spreader lights.  The fiberglass hard top includes an integrated radio box that is great for storage.  Certainly, you can add bolster cushions and a life jacket storage.
High Speed Towers have at least 4 console mounts and 4 deck mounts.  We install cobia towers with stainless steel hardware and marine adhesive.
More information can be found on our Custom Cobia Tower For A Center Console Boat page.  Our cobia tower experts can be reached through our contact page.  Finally, here is a video that displays all of our custom cobia towers.