Heavy-Duty Truck Rack for Ford F350 Pickup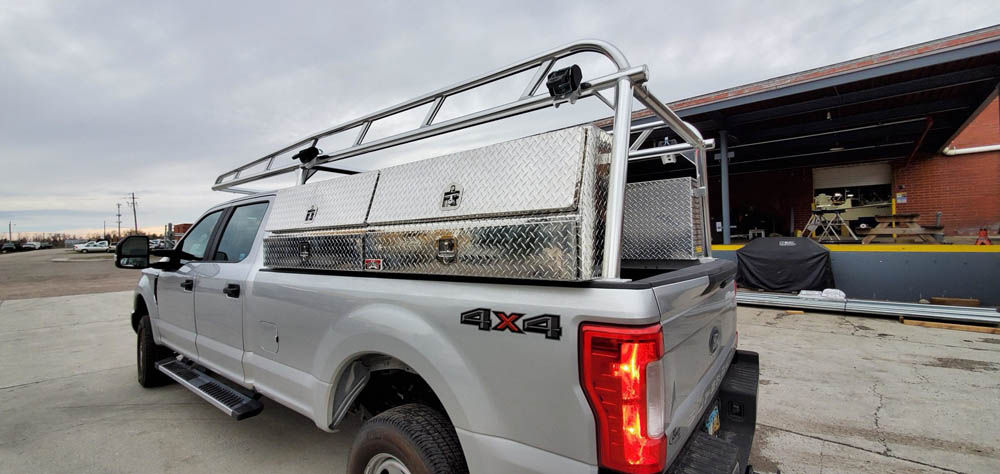 Heavy-Duty Truck Rack are available at High Speed Welding.  We specialize in aluminum ladder racks for pickup trucks.  Ryder Racks are heavy-duty.
Heavy-Duty Truck Rack
Ryder Racks are fabricated with 2″ heavy-duty aluminum that is schedule 40 and schedule 80.  Anodized aluminum will not rust, chip or corrode.  The full-length aluminum bed rails help distribute the load evenly on the pickup truck bed.  Clamp-on bed mounts eliminate drilling into your truck.  The trucks we install to are new, so drilling is not preferred.  Ryder Racks are strong, because we use heavy-duty pipe.
Ryder Rack WELD Truck Racks come standard with a removable rear bar, full-length bed rails, wind deflectors and installation.  Removable rear bars are great for loading in large items such as refrigerators and HVAC units.  The removable rear bar can be removed and added back within seconds.  This heavy-duty 4-pin design is strong and easy.  The wind deflectors eliminate wind noise when traveling high speeds down the highway.  Ladder racks that are not advertised as quiet.
Style Meets Utility
Ryder Racks look great and help improve your company image.  Other heavy-duty truck racks are fabricated with black steel.  Steel racks are heavy and burn extra fuel.  In contrast, our aluminum racks are not heavy and can help save on fuel costs.  Steel racks rust and leave stains on your vehicle.  Rusty vehicles are not professional, because they do not reflect your company image well.  Above all, first impressions are important.
This customer added our most popular rack upgrade, rack straps.  Auto-retracting rack straps allow you to secure your ladders and materials very efficiently.  Rack Straps are stronger than bungee cords and ropes.  Consequently, bungee cords are dangerous and can hit you in your eye.  We keep our most popular rack models in stock.  Most noteworthy, Ryder Racks can be built to order.  Top-side tool boxes not only look great, but are very functional.  Tool boxes fit well between our heavy-duty truck rack and increase your truck's storage tremendously.  Brute toolboxes have drawers on the bottom and doors on the top.  Brute toolboxes are built with diamond plate aluminum.  Above all, brute toolboxes have locks.
Here is a video for our Ryder Rack SILVER.  We offer several heavy-duty ladder racks that you can choose from.  Our ladder rack specialists can be reached through our contact page.