Reupholster Cushions For Boat – Custom Boat Cushions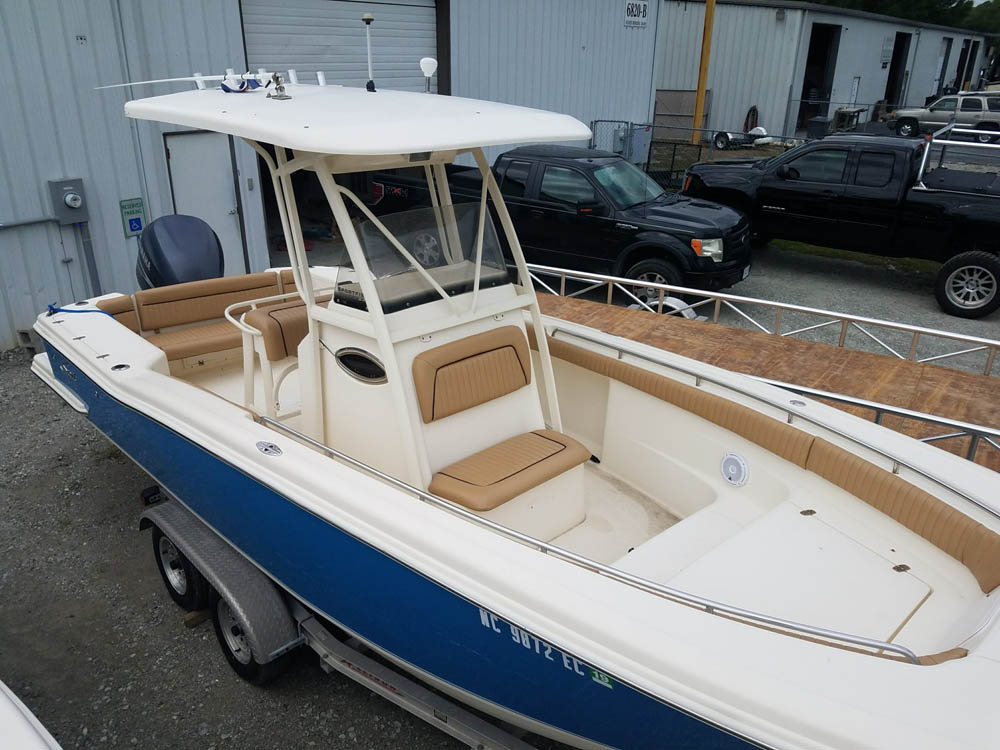 Reupholster Cushions For Boat – Custom Boat Cushions
We took some old cushions and made them look new.  This Scout Boat certainly received a face lift with new cushions.  We used the existing foam.  The old vinyl was used for a pattern, because making pasterns from scratch is very time consuming.  We used brown colored vinyl for the new cushions and black piping.  Some of the vinyl was pleated and other parts of it were not.  We have a bunch of cushion vinyls and styles to choose from.  We can create custom 2-tone cushions when we reupholster cushions for boat.  The variations and possibilities are certainly limitless.
We fabricated 4 bolster cushions, 2 console cushions, 1 leaning post cushion, and 3 stern cushions.  The center stern cushions and backrest folds, because there needs to be access and to allow the boat motor to trim.  The leaning post cushion folds, because there is a storage under the seat.  All of the hardware used to attached the cushions was brand new.  We use stainless steel hardware, because it does not rust.  High Speed Welding is not limited to reupholster cushions for boat.  We can fabricate custom cushions from scratch.  We have several types of foam density to choose from.  Hence some are really firm and some are really soft.  We can do combinations of 2 different foams for a custom feel.
We are located in Wilmington, NC.  Some customers bring us their loose cushions and some prefer to bring us the entire boat.  Having the boat certainly helps us make sure the cushions fit correctly.  We have fenced in facility at our location, because security is a priority for us.
Contact Us Today
For more information about our custom vinyl cushions please contact us.  We can be reached through our contact page.  We would love to help you reupholster cushions for boat or any other type of vinyl cushion project that you might have.  Here is a link to our custom cobia tower video.