Bow Cushion Set for Carolina Skiff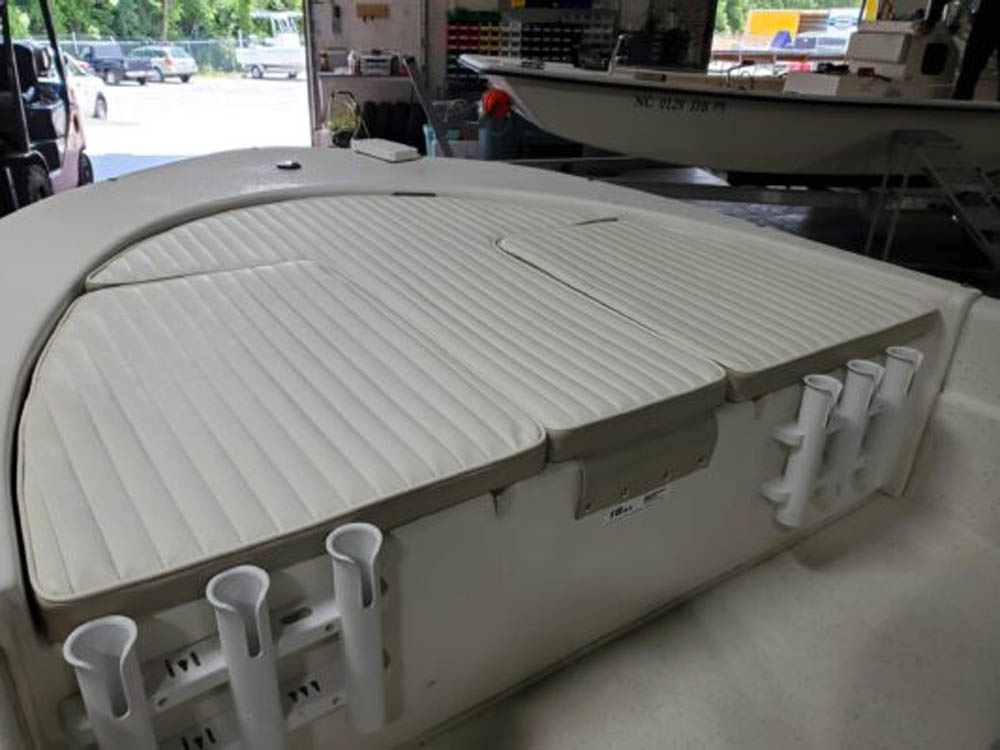 (WE WOULD NEED YOUR BOAT AT OUR WILMINGTON, NC FACTORY TO REPLICATE THIS)
We just finished this set of Bow cushion set for Carolina skiff.  Materials that match the rest of the boat is important when fabricating custom cushions.  Our cushion color selection is large, so we'll be sure to have the colors needed to match any boat.  We designed the cushions with a 3-part configuration.
The snap features allow for easily installing and removing the cushions.  This small Carolina Skiff got a sunbathing deck with the installation of these cushions.  It is very convenient to lay out on the bow with all the extra comfort.
We have soft marine grade foam that comes in several types of densities.  The foam is also available in different widths and finding the right comfort per application is easy.  Denser foams are great for low profile situations and soft foams are great for large scale cushions.
The two-tone cushion colors are a sharp combination with the piping around the perimeter.  The light color pleats look great as well.  Our expert upholsterers and can meet any request you may have for your custom cushions..
We would be happy to talk about your custom bow cushion needs, and we can be reached through our contact page.  For highly custom projects, it's best that we have the boat at our Wilmington, NC location.  We request to have the boat at our location, so we can guarantee the best quality of work.  Our facility has plenty of boat storage, so your boat can stay during the fabrication process.