Custom Hardtop For Ultra Elite Carolina Skiff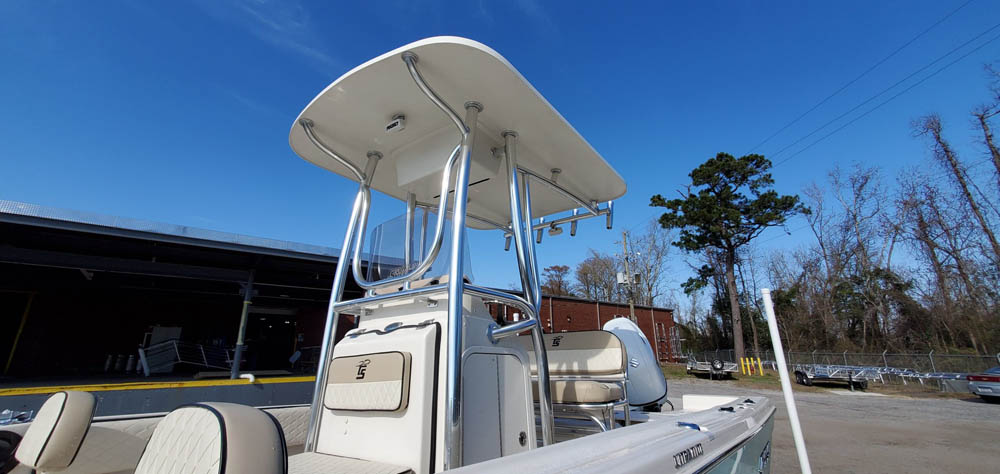 This custom Hardtop for Ultra Elite Carolina Skiff was built with 2″ anodized aluminum pipe.  We use heavy-duty pipe, because it's is very strong and supports the weight of the fiberglass top.  Hardtops with with the same color gel coat as the boat are a perfect match.  Our hardtops include 4 rod holders, an anchor light and installation.  This customer opted to add front and rear spreader lights, so they can light the deck up at night.  This customer plans to install spray curtains at a later date as well.
Custom T Top Design
We offer other upgrades to our custom hardtops.  Outrigger plates are typically standard, however this boat does not have them.  Kingfish Rod Holders are a great addon if you plan to use the boat for trolling.  We offer a couple different sizes and types of hardtops for ultra elite boats.  The fiberglass top has a radio box integrated into it.  We weld aluminum flanges to the side of the radio box and to the side of the console, so wires can be pulled through.  This hides the wires and keeps them from being exposed.   radio box is great, because it can be used for radios or just general storage for accessories.
We offer powder coated frames as an option.  We have dozens of powder coat colors to choose from, so we can match existing parts if needed.  When we install our T Tops and Hardtops, we use stainless steel hardware and 4000 adhesive to attach to the boat.  Each boat receives a custom design that is sleek.  There is no interference of the console door or the flip up hatch in the front.  Before we start a custom build, we make sure it comes out as clean as this hardtop for ultra elite, because it's one of the biggest features of the boat.
Contact Us
Please reach out if you have a Carolina Skiff that you want to get up fitted with a fiberglass hardtop.  We can be reached through our contact page.  We look forward to hearing from you.  For projects like this, we would need your boat at our location, so we can make sure everything goes perfect.  We typically need the boat for about 1-2 weeks.