Ladder Rack – Reading Truck Body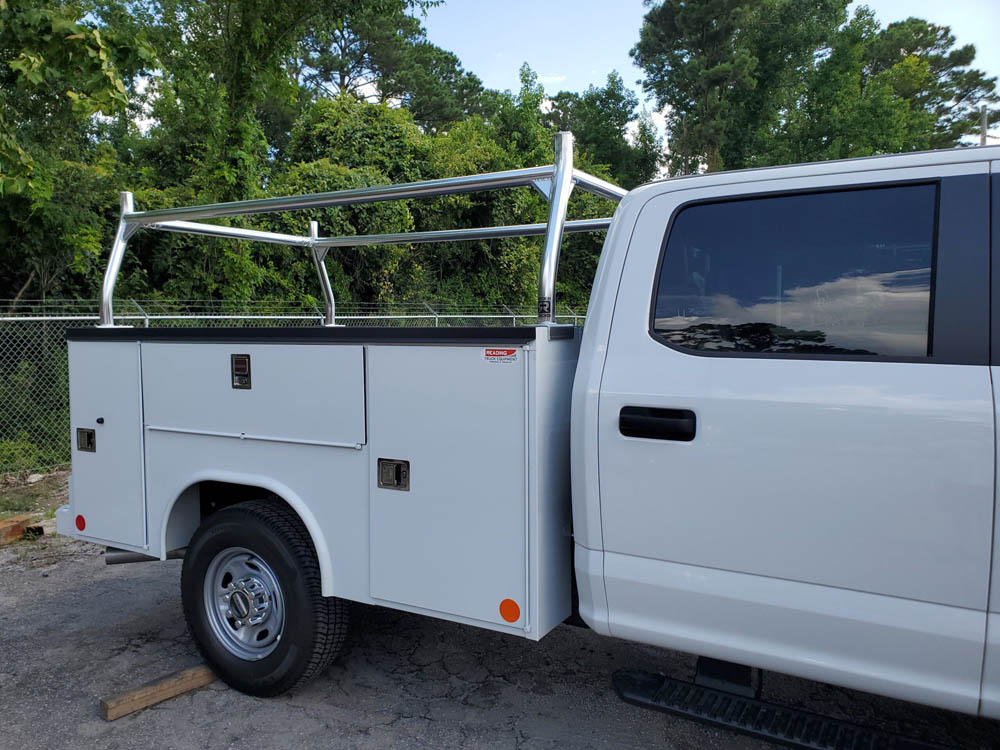 We just installed this Ladder rack for Reading Truck Body.  This ladder rack is our Ryder Rack STUD.  It comes with 4 vertical posts, removable rear bar, and installation.  A popular upgrade is (4) auto-retracting rack straps or a set of truck bed tool boxes.  Customers can add stationary or removable bars.  Extra bars are great for flexible materials or short ladders.  We can add as many crossmembers as you'd like, so just let us know.
Custom options are available for Service body ladder racks, so we can make them the way you'd like.  Every truck body and chassis are a little different.  Our measurement guide is easy to follow and great for customers that our out of town.  If a customer is not able to come for the installation, they typically go for our modular ladder rack.  Our Ryder Rack HALF is capable for freight, because not every customer is close to us.  Every truck body is designed a little different, so accurate measurements and photos are important.
Our Ryder Rack STUD is fabricated with anodized aluminum, so it will shine for a long time.  The 2″ pipe measures 2.375″ on the outside.  Removable the rear bar is important to a lot of customers, because they use the truck more than hauling ladders.  This is great, because you can load large items like refrigerators or HVAC units.  We mount the racks with .25″ aluminum and use stainless steel hardware.  Our ladder racks are installed with stainless steel hardware, because we don't want them to rust.
Contact us and ask ladder rack questions:
This ladder rack for reading truck body is mounted to the top.  We can fabricated custom racks that install for flip-top lids.  Our Ryder Racks are heavy duty and aluminum.  The best ladder rack on the market.  If you'd like more information, please reach out through our contact page.