Carolina Skiff Elite T Top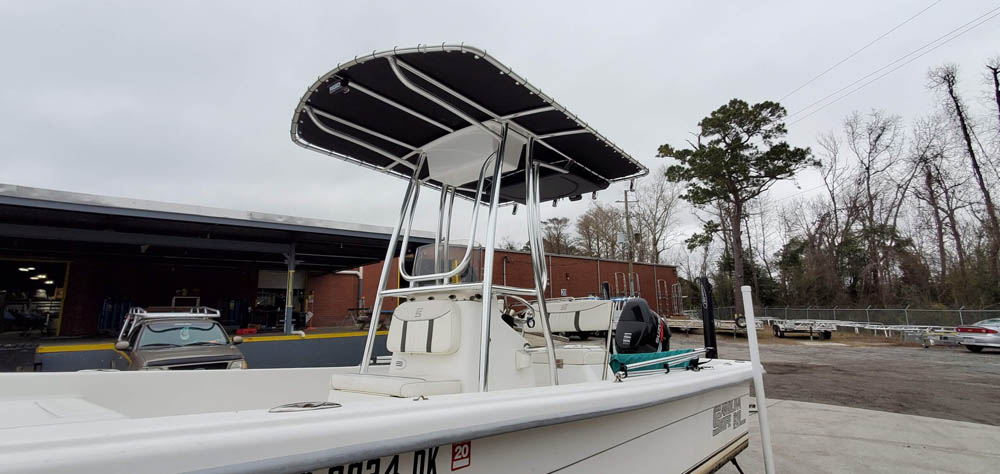 We just installed this Carolina Skiff Elite T Top.  This boat is a Carolina Skiff 21 Elite Series.  Custom T tops come standard with 4 rod holders, sunbrella canvas, and installation.  Almost every boat t top gets an upgrade, because we have a lot to choose from.  This t top received a fiberglass radio box, life jacket storage, and spreader lights.  The radio box is a great spot to store items and not just radios.  I like to put my wallet, keys, and jacket up there.
The life jacket storage can hold up to 5 life jackets and offers great accessibility.  The passengers can unzip the bag, so there's not much hassle to get them.  The spreader lights are LED and great for lighting up the deck at night.  LED lights are great for saving power and a great addon to a custom boat top.  Customers can also add additional rod holders, outrigger plates, and boat spray curtains.
The most popular canvas color is black, however we offer sever dozens of colors.  You can choose the color canvas when you drop off your boat.  We have a color wheel, so you can see all of the sunbrella colors we have available.  This top was fabricated with anodized aluminum, but sometimes customers want a Powder Coated T Top.  Powder coating is also available in several colors, so we'll be able to get you the color you desire.
Please don't hesitate if you have any questions about this Carolina Skiff Elite T Top.  We can be reached through our contact page.  We have videos that feature our Custom T Tops as well.