Bow Rails and Stern Rails for Carolina Skiff – Aluminum Boat Rails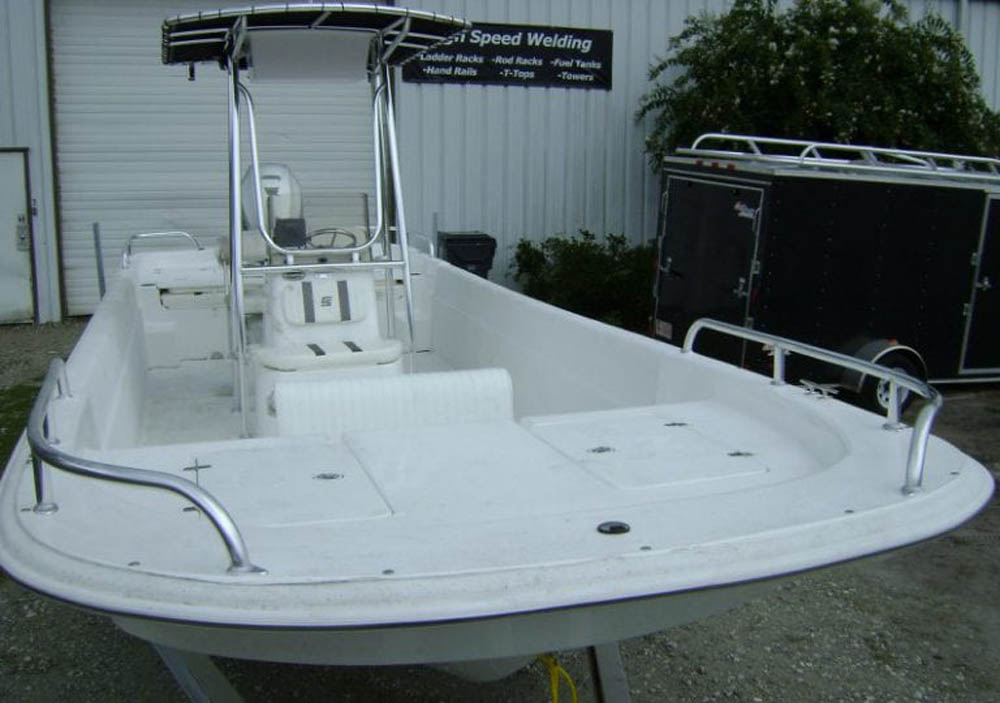 Bow Rails and Stern Rails for Carolina Skiff are a great addition to add to your boat
Bow Rails are standard 6″ tall.  We fabricated our bow rails out of 1″ anodized aluminum pipe.  Anodized Aluminum has a protective shine and will not corrode like regular aluminum.  Anodized offers a shiny finish and looks fantastic.  1″ aluminum pipe measures 1.25″ on the outside and is great for mounting clamp on rod holders.  It is certainly better to have us weld on rod holders as well.  Welded rod holders are more durable and look fantastic.  The bow rails and stern rails are installed with stainless steel hardware.  We lay down marine adhesive to offer a tight bond between the boat rails and the mounting surface.  Bow Rails and Stern Rails for Carolina Skiff are certainly a great upgrade.
Custom Rails For Boats
We bend the pipe on the fronts and the backs so that there are not any hard miters.  Radius edges are much safer on a boat than a miter cut and weld.  We also bend the pipes so that they follow the contour of the boat's bow and stern.  When building custom aluminum boat rails, we can also take into consideration obstacles like boat cleats and rod holders.  We can weld the bow rails or stern rails to be special heights and lengths.  Customers mark the landing locations with tape.  Having the customers help provide visual references makes sure that we fabricate the boat rails exactly how they desire.
Bow Rails and Stern Rails are great for passengers to hold on to while the boat is underway.  It provides an increased safety feature for children that ride in the bow and stern.  Aluminum boat rails help handle your boat while at the boat ramp and docks.  We are not limited to fabricating bow rails and stern rails for Carolina Skiffs.  We certainly can fabricate bow rails and stern rails for any make and model boat.
Contact us Today
Please contact us for more information about our Bow Rails and Stern Rails for Carolina Skiff Boats.  You can call 910-632-4427 to speak with one of our boat rail experts or send us a message through our contact page.  Here is a video about our custom T Tops.