Parker 21SE T Top – T Top For Parker Center Console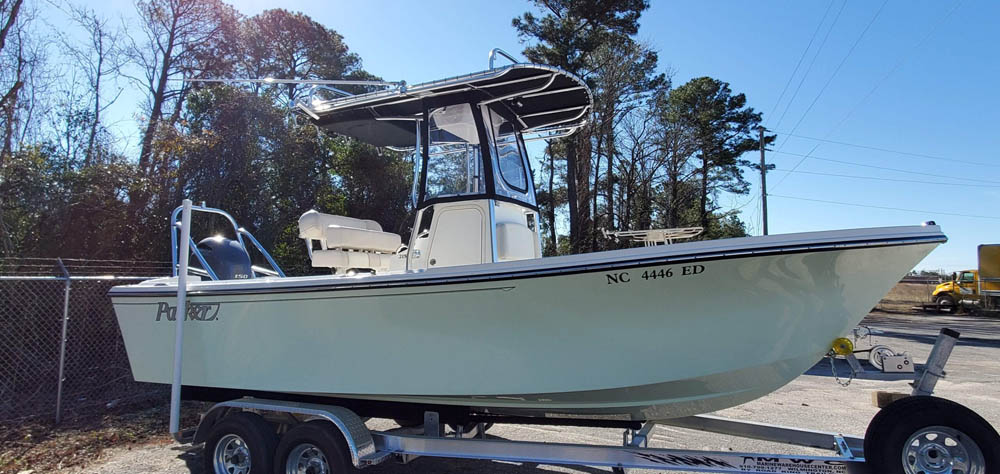 Parker 21SE T Top
We just installed a Parker 21SE T Top.  The T top for parker center console included a set of curtains.  Our Custom Canvas T Tops come standard with 4 rod holders, black sunbrella canvas, anchor light, and installation.  This boat T Top had several options that we offer.  A fiberglass radio box is great for storage and keeping the dash free of electronics.  It can be used to store the VHF radio, so that a larger navigation screen can be used.  The life-jacket storage keeps them out of the way, so that other spots on the boat can be used.
Front and Rear LED Spreader lights are great for lighting up the deck at night.  The grab rails are an extra place to hang one when stepping off of a raised dock or pier.  The additional rod holders are not used for storage, however than hold rods while trolling.  Spreading the rods, so that the lines won't get tangled with others.  The most stand-out feature on this custom t top is the surf racks.  These T Top surf racks are welded to the outside frame and very strong.  We provided tie-downs that can be utilized for strapping down the boards.
T Top Surf Racks
The surf racks can also be used to carry SUP boards as well.  We went the extra mile when we installed the VHF antenna and put it on the grab rail.  This allows no interference with the board rack, so loading is easy.  The 3-piece curtain set is another sunbrella product that we offer.  The curtains are easily removable, so they can be stored when not in use.  We install a track at the top, however stainless buttons are at the bottom.  The front has a u-zip, so that it can be rolled up and out of the way.  This project also included a custom ski tow that was mounted over the motor.
If you have any questions about our Parker 21SE T Top or Custom Boat Curtains, please do not hesitate to reach us through our contact page.  We will be glad to help get your boat rigged up with any type of marine fabrication.  Here is a video link about our Custom Canvas T Tops.