Carolina Skiff Leaning Post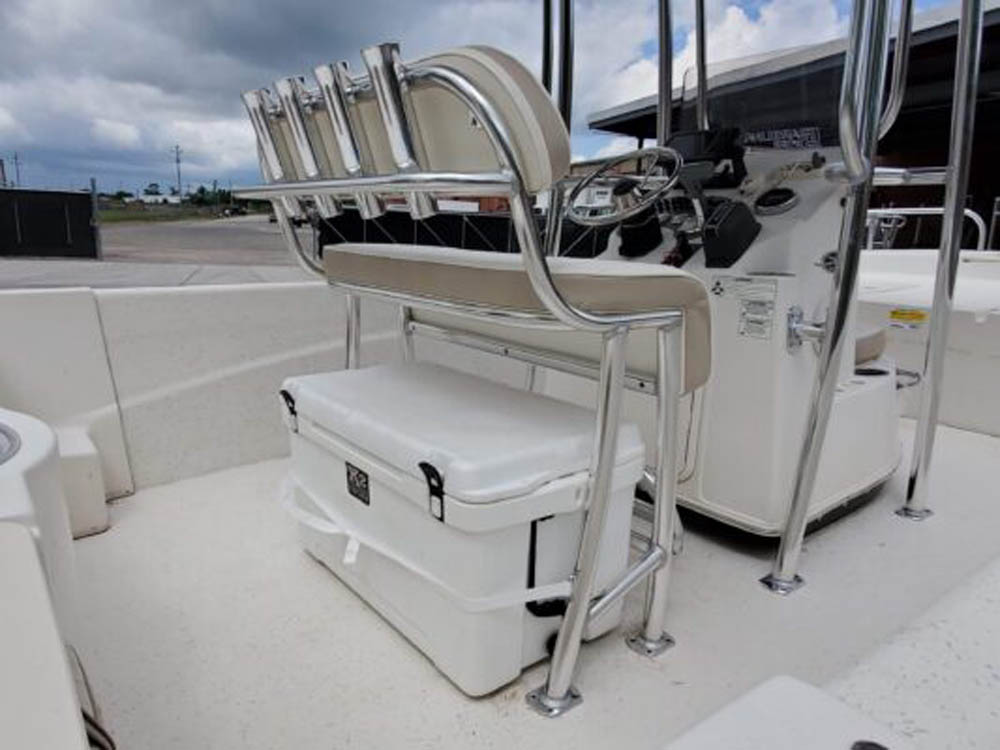 This Carolina Skiff Leaning Post was just installed on a 21 DLV.  This customer double checked the measurements to make sure his cooler fit underneath.  Our standard leaning post is 35.5″ wide and has room for a 30″ cooler to fit.  We can design our leaning posts in different widths, so custom options are available.  This leaning post was designed with a stationary backrest and 4 aluminum rod holders.  A stationary backrest allows for 4 rod holders.  We prefer stationary, because drop-in backrests take up rod holders storage.
We used custom cushion colors to match the existing Carolina skiff cushions.  The off-white pleated material looks great with the light brown sides.  We have several vinyl colors to choose from, so the possibilities are endless.  If you'd prefer the frame to be powder coated, that is available.  Check out think link of a powder coated leaning post.  Our custom leaning posts can be installed or freighted.
Most customers pick up their Custom Leaning Posts from our Wilmington, NC Factory.  We have been building them since 2005.  Our inventory has several different leaning post designs and options.  This customer added a folding footrest, so it can be out of the way when not being used.  We have other leaning post designs with folding leaning cushions and storages.  Our leaning post storages are either powder coated aluminum tray or a mesh bag.
Please give us a call if you have any questions about this Carolina Skiff Leaning Post.  We can be reached through our contact page.  We have several blog posts, so you can see a bunch of leaning post photos and information.  Our inventory is located at 1536 Castle Hayne Road – Wilmington, NC.  We look forward to helping with designed a custom leaning post for your center console boat.