Custom Aluminum Cobia Tower for Glenn Bradley Boat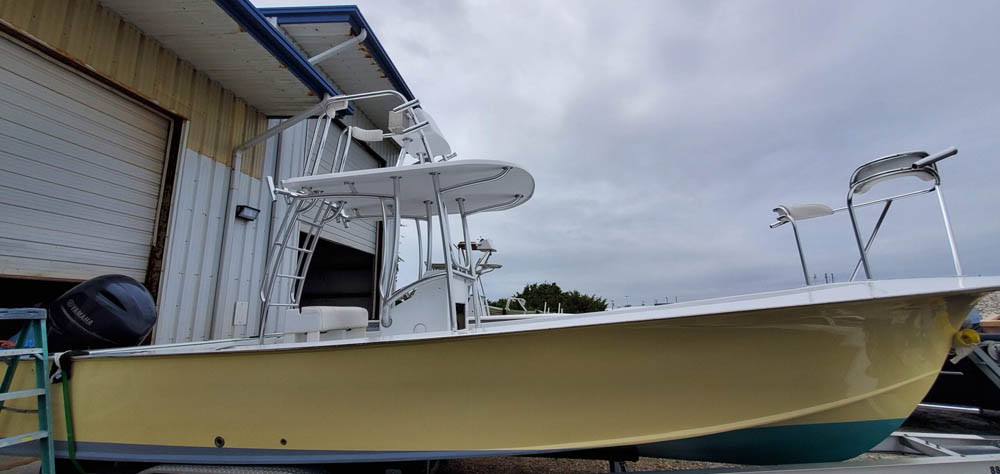 High Speed Welding just completed a custom aluminum cobia tower for a Glenn Bradley boat.  The original tower was damaged during a wind storm.  While the boat was getting fixed and a fresh coat of paint, we were able to start fabrication on the cobia tower.  The owner was specific on how he wanted the cobia tower designed.  We took all specs into consideration before we started fabricating the aluminum frame.
We used a fiberglass hard top for the cover.  The hard top is strong and allows the customer to stand on top while he's fishing.  The easy-access ladder is great, because he can climb up quick when he gets to the fishing grounds.  We were able to use the existing bolster cushions and we added a few extra tulip rod holders for storage.  The fiberglass hard top has a foam core which allows us to run wires for LED spreader lights.
The aluminum frame was fabricated with 2″ pipe, because it is much stronger than 1.5″ pipe.  The anodized aluminum will stay polished for a very long time.  We designed the tower in a way that wires and control cables can easily be rack from the helm box to the console.
Please contact us if you would like us to build you a custom aluminum cobia tower.  Here is a page that has more information about our cobia towers.  You can also watch this YouTube video and see all of the different custom cobia towers we offer.  Please contact us if you have any questions or if you'd like to place an order.  We can be reached through our contact page.